Mel Allegedly Begged Oksana for Forgiveness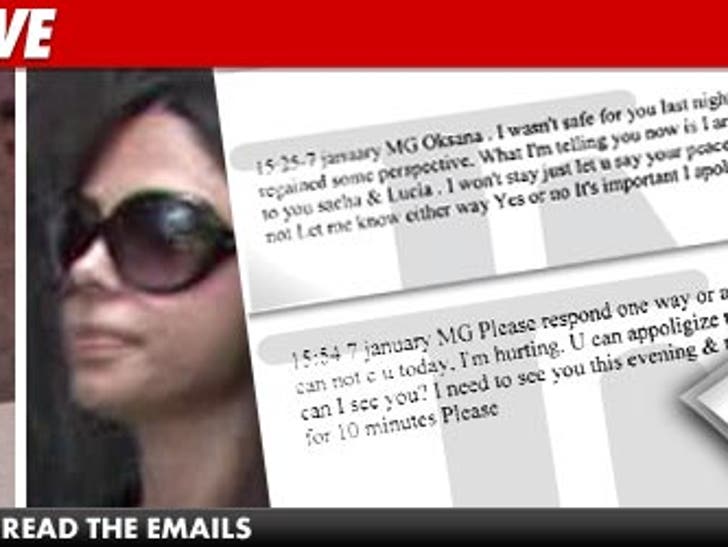 Mel Gibson dropped to his knees the morning after the nuclear January 6 meltdown and begged Oksana Grigorieva for forgiveness ... this according to sources connected with the case.
We've learned Oksana gave L.A. County Sheriff's investigators an email -- obtained by TMZ -- in which Mel said to Oksana he wanted to "come by to make amends to you, Sacha and Lucia." Mel added, "I spent 2 hours with a therapist today & have regained some perspective. What I'm telling you now is I am safe."
Oksana responds by saying, "I have two broken front teeth and a concussion. I cannot c u today, I'm hurting."
Mel then responds, "Did you get them fixed yet? When can I see you. I need to see you this evening & then I promise I'll leave you alone for as long as you want if only for 10 minutes Please."
We've learned Oksana has told Sheriff's investigators Mel showed up at the house unannounced later that day, came inside, began to cry and begged for forgiveness. Oksana told investigators Mel crawled toward her but she walked away and Mel eventually left.
It's important to note -- we're told there are hundreds of emails that went back and forth between Mel and Oksana, and the true story of what happened is only revealed by presenting all of them at once -- which will come in due time.