Sheen Gloats 'Men' Can't Survive Without Him
Sheen Gloats
'Men' Can't Survive
Without Him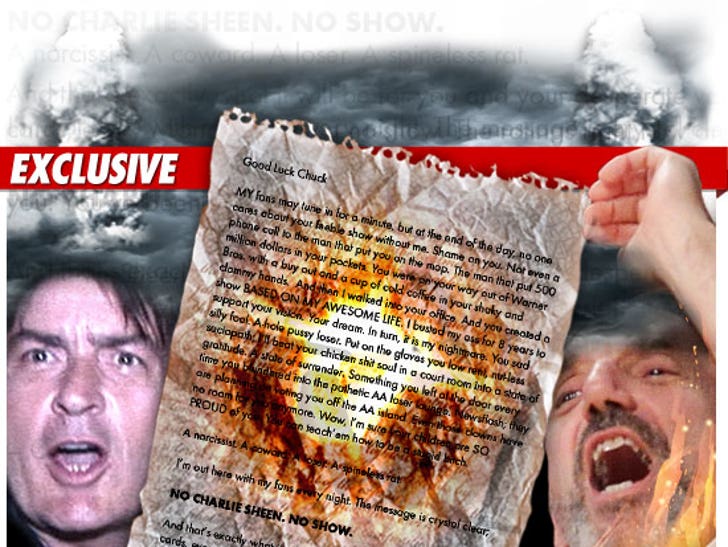 Charlie Sheen tells TMZ ... "Two and a Half Men" creator Chuck Lorre is a "sad silly fool," an "A-hole p*ssy loser" and a "low rent, nut-less sociopath" who is now realizing the show can't survive without him -- and Charlie claims the ratings prove his point.
Sheen fired off a blistering letter, attacking Lorre in the wake of reports that Jon Cryer will get a bigger role on the show and Charlie will be replaced.
Charlie says, "... No one cares about your feeble show without me," adding, "The ratings right now are not a fluke. It's a big fat mess. A 2.0 demo. That sucks." Although the number is low, the show is in reruns.
But Charlie doesn't stop there, saying, "Not even a phone call to the man that put you on the map. The man that put 500 million dollars in your pockets ... I busted my ass for 8 years to support your vision."
And in the letter, which Charlie sent to TMZ as a messenger to Lorre, gets very personal: "They are planning on voting you off the AA island. Even those clowns have no room for you anymore."
TMZ broke the story Thursday ... there's a 50/50 chance "Men" will not come back for Season 9.