Atlanta Braves Coach Fined, Suspended by MLB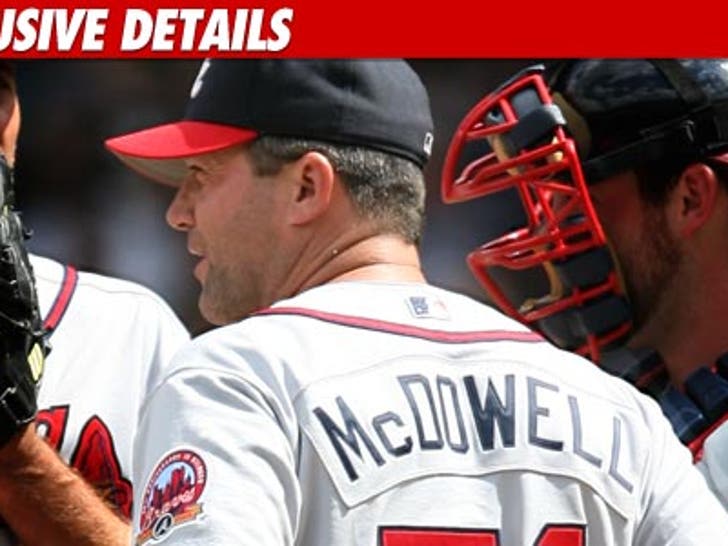 Roger McDowell -- the Atlanta Braves pitching coach who allegedly hurled gay slurs at a group of fans earlier last weekend -- was suspended today by Major League Baseball.
McDowell's suspension will last two weeks, during which time he will not be paid. He was also fined an undisclosed amount of money. Commissioner Bud Selig said in a statement Sunday, "Conduct by people associated with MLB that shows insensitivity to others simply cannot and will not be tolerated."
Superstar attorney Gloria Allred, who is representing Mr. Quinn, tells TMZ, "The fact that Coach McDowell will be subjected to an unprecedented two-week suspension, be required to take sensitivity training and be fined, demonstrates that Major League Baseball believes that homophobic slurs, sexually lewd conduct and threatening behavior by Coaches or any other person employed at a game in the Major League will not be tolerated."
For his part, Justin Quinn tells us, "I am pleased to see Major League Baseball imposing discipline on Coach McDowell for his actions. I love baseball dearly and my family and I are now looking forward to getting back to the ballpark for another game."
McDowell himself released a statement that said, "I understand the decision made today by the Commissioner. I am embarrassed by my actions and I plan to give a personal apology to Mr. Quinn and his family."
As we previously reported, a family of four -- including two 9-year-old girls -- went public with their accusations this week ... claiming McDowell made several homophobic remarks toward fans at AT&T Park ... and then mockingly proceeded to simulate gay sex with a baseball bat.