Atlanta Braves Coach -- Accused of Hurling Gay Slurs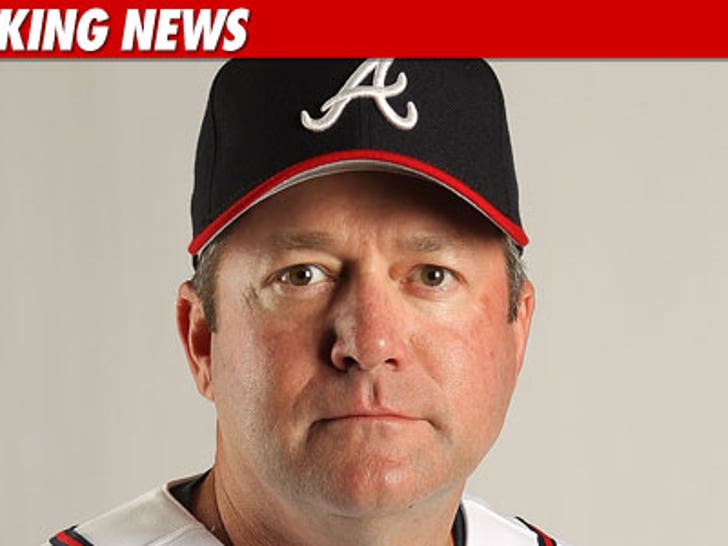 Atlanta Braves pitching coach Roger McDowell has been accused of targeting a group of male fans last weekend at a Giants game in San Fran -- allegedly asking them, "Are you a homo couple or a threesome?"
Mega-attorney Gloria Allred announced the allegations moments ago in a news conference -- representing a family of four (including two 9-year-old girls) who claim they watched McDowell make the homophobic remark and then use a baseball bat to simulate gay sex.
According to Allred, the family claims they also witnessed McDowell tell the group of male fans, "Are you three giving it to each other in the a**?"
The father claims he confronted McDowell from the stands -- and McDowell responded by saying, "Kids don't f**king belong at the baseball park" ... and then approached him with a baseball bat, saying, "How much are your teeth worth?"
The family is demanding an apology from McDowell ASAP for his alleged anti-gay behavior.
Gloria and the family also want the Commissioner of Baseball Bud Selig to fine both McDowell and the Atlanta Braves -- and send McDowell to some serious sensitivity training.
UPDATE: Roger McDowell just APOLOGIZED, releasing a statement moments ago, saying, "I am deeply sorry that I responded to the heckling fans in San Francisco on Saturday. I apologize to everyone for my actions. "
A rep for the Braves released an additional statement, saying, "We are concerned by these allegations and the behavior described by a witness today. This in no way represents the Braves organization and the conduct we expect of our employees."
TMZ has learned ... GLAAD also reached out to the Braves in the hopes of partnering with the franchise to educate their employees about homophobic remarks.