'Dog' Chapman -- 'Come On White Boy!!!!!'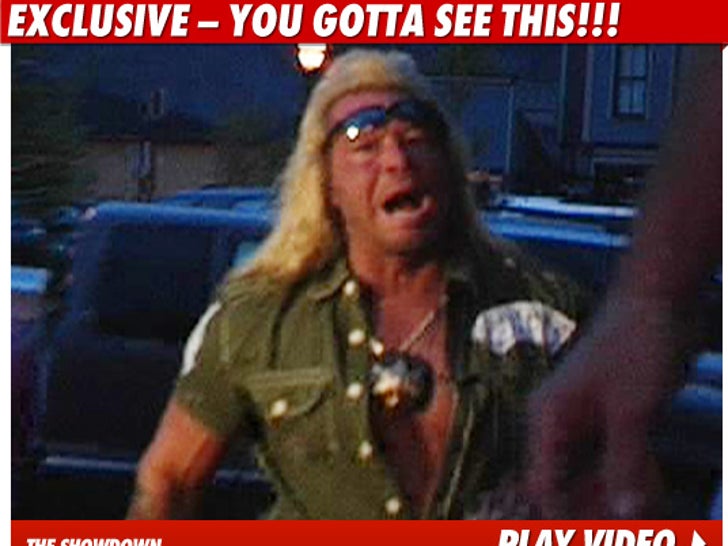 A racial confrontation erupted between Dog the Bounty Hunter and a bar owner in Colorado last week ... with Dog screaming, "Come on white boy, come on motherf**ker" ... after the other guy allegedly called Dog a "half-breed" ... and TMZ has the footage.
It all went down on Thursday at La Montana Linda Restaurant in Breckenridge, Colorado -- when Dog's team stormed into the place looking for the owner's father ... who allegedly jumped bail on breaking and entering charges. Dog was on the hunt for the guy as part of his reality show.
In the video, Dog's team can be seen marching through the kitchen after entering through the back door. When confronted by a camera-wielding patron, one of the Dog's team members says, "I'm not a superstar ... I can f*ck you up and not get charged."
At that moment, another member of Dog's team throws a closed-fist punch at the patron's face ... sending his camera crashing to the ground. We're told a brawl broke out and another patron was punched in the eye. Check out the injuries below.
The restaurant owner then goes outside to confront Dog face to face ... screaming at the reality star to get off the property ... and that's when things get CRAZY.
Dog loses his cool and lashes out -- screaming, "Come on white boy ... come on white boy ... come on white boy ... come on mother f**ker!!!"
The owner then throws a plant at Dog -- which pissed off Dog's right hand man ... who lunged at the owner ... tearing off the guy's shirt in the process.
That's when Dog whipped out his stun gun -- and made sure everyone knew he meant business. Dog eventually left without having to shock anyone.
Sources close to Dog tell TMZ ... Dog considered his target a "very dangerous guy" ... and notes that tensions were high that day.
We're also told Dog -- who claims he's part Native American -- claims the owner made the FIRST racial taunt, referring to the reality star as a "half-breed."
We're told Dog also felt his team was "rushed" when they entered the restaurant ... to create a diversion so the suspect could flee out of another exit. We're told Dog is claiming one of his men was sprayed in the face with cleaning fluid ... and that's what ignited the altercation.
The suspect is still on the run.