NFL Star RIPS Commish: I'd Let Him Burn to Death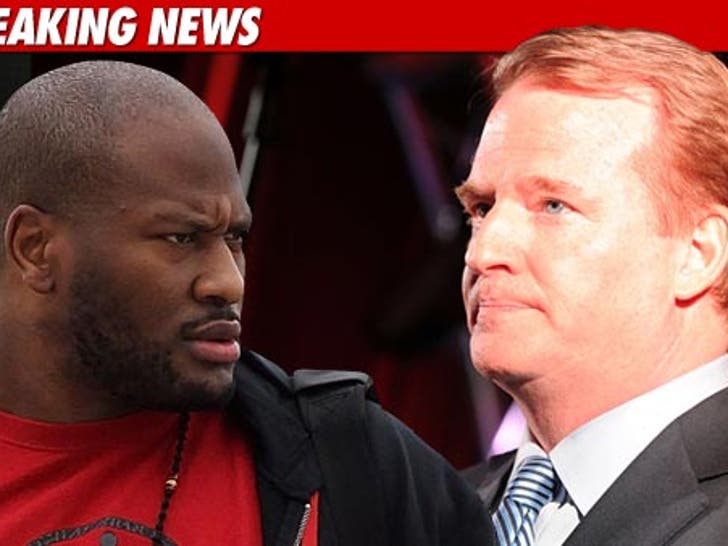 Pittsburgh Steelers defensive juggernaut James Harrison just BLASTED NFL commissioner Roger Goodell, claiming, "If that man was on fire and I had to piss to put him out, I wouldn't do it."
Harrison -- the 2008 Defensive Player of the Year -- unloaded in a brand new interview with Men's Journal -- adding, "I hate [Goodell] and will never respect him." Harrison also calls Goodell an anti-gay slur, a "crook," a "devil," a "puppet," and a "dictator."
Goodell famously fined Harrison $100,000 for illegal hits last fall -- making Harrison one of the most heavily-fined players ever in a single season.
But Goodell isn't the only one Harrison targets in his rant -- the Steeler also blasts fellow teammates Ben Roethlisberger and Rashard Mendenhall, whom he calls a "fumble machine."
Referring to Roethlisberger's two interceptions during the Super Bowl, Harrison says, "Hey, at least throw a pick on their side of the field instead of asking the D to bail you out again. Or hand the ball off and stop trying to act like Peyton Manning. You ain't that and you know it, man; you just get paid like he does."
As you may recall, Harrison famously picked off Kurt Warner in Super Bowl 43 and ran it back 100 yards for a touchdown ... the longest play in Super Bowl history.
The NFL is currently in a lockout after the players failed to reach a collective bargaining agreement with the league's owners.