Joan Jett -- I Love Rock & Roll ... I Hate Hot Topic
Joan Jett
I Love Rock & Roll
I Hate Hot Topic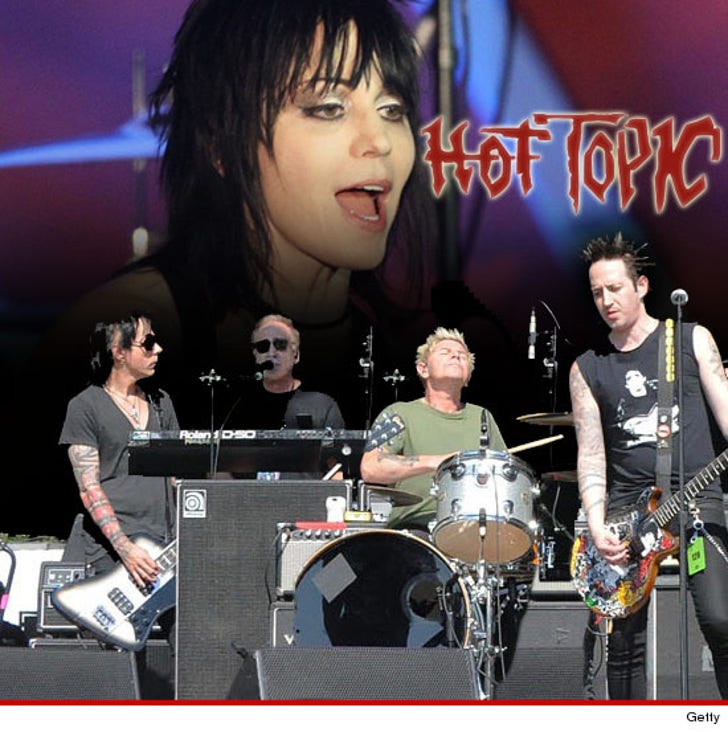 EXCLUSIVE
UPDATE 1:55 PM PT -- Hot Topic just sent us a statement, saying they hold several trademarks for use of the Blackheart brand ... some going back a decade ... adding that Jett's record company never had a problem before.
"Hot Topic, Inc. takes the rights of artists very seriously, and has in fact compensated Ms. Jett over the many years in keeping with mutually agreed-upon license agreements ... this lawsuit is a surprise to us, and we are confident in our rights to use the Blackheart brand name."
Joan Jett's got her panties in a twist over a brand new line of lingerie -- owned by Hot Topic -- claiming the risque undie line completely ripped off her "Blackheart" trademark ... as well as her style ... and now her record label's out for payback.
Blackheart Records has filed a lawsuit against HT, claiming the rock-n-roll retailer jacked the "Blackheart" trademark for its new Blackheart lingerie line ... which advertises itself as "lingerie for girls who rock and roll."
Jett's record label insists Blackheart lingerie is blatant trademark infringement -- because Jett popularized the term "Blackheart" with her band Joan Jett & the Blackhearts ... and personally made the rock-and-roll chick thing mainstream.
Blackheart records is now suing for trademark infringement and more, demanding unspecified damages ... as well as an injunction blocking any further sale of the lingerie.
Calls to Hot Topic weren't returned.