Charlie Sheen Sex Tape Linked to Missing Witness
Charlie Sheen
Sex Tape Linked to Missing Witness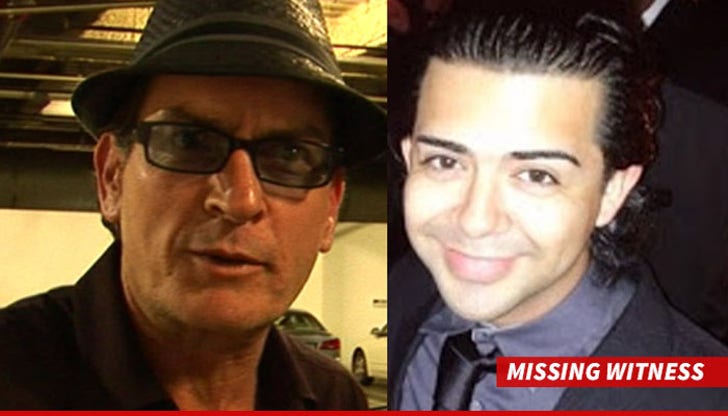 EXCLUSIVE
A man who was supposed to be a key witness in a major burglary case is missing ... and sources tell TMZ there's a direct link to a Charlie Sheen sex tape that was being secretly shopped.
As TMZ reported ... Ricardo Orozco is currently on trial for allegedly breaking into the home of Christina Fulton -- Nic Cage's baby mama -- and stealing computers and boxes of memorabilia, allegedly including nude photos of Nic Cage.
During the preliminary hearing Thursday, a detective testified that one of the items taken was a Charlie Sheen video that we're told was on one of the stolen computers. Law enforcement sources tell TMZ ... it's a sex tape.
Now here's the link between the sex tape and the missing man. We're told Darwin Vela -- the missing man -- along with Orozco, recently went to meet with Charlie's people, claiming they had a sex tape starring Charlie and wanted to sell it, but Vela and his people never produced the tape.
Vela is a key witness in the Ricardo Orozco burglary case and was supposed to testify in the preliminary hearing as early as today.
Now get this. On Tuesday, Vela took his dog Cocoa for a walk, and the Chocolate Lab returned home without him with human blood on its leash, trembling and whimpering. Vela has not been seen since.
And, TMZ was doing some digging yesterday, and we spoke with several men who have never proven to be fearful in the past but literally were shaking in their boots when we talked to them about Orozco and the burglary.