Paris Hilton's Brother Barron -- Lindsay Lohan's Thug BEAT MY FACE IN
Paris Hilton's Brother:
Lindsay Lohan's Thug BEAT MY FACE IN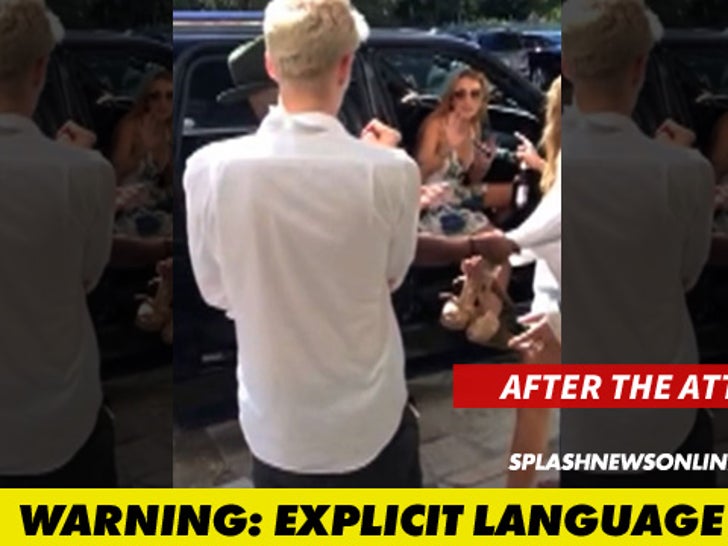 Paris Hilton's little brother Barron Hilton was jumped this morning -- and beaten to a pulp -- and he claims Lindsay Lohan masterminded the attack, TMZ has learned.
We know Lindsay's denying she ordered the hit -- in fact, she claims she wasn't even on the scene at the time of the incident -- but now we have video (above) that proves otherwise. It shows Barron (blonde hair, white shirt) and his friends confronting LiLo right after the attack.
Multiple sources connected to the situation tell us ... Barron attended a party last night at a Miami mansion where Lindsay has been staying while she's in town for an art festival -- a party that lasted until well after the sun came up.
We're told ... during the party, someone accused Barron of talking smack about Lindsay -- and a short time later he was attacked and beaten to a pulp. TMZ obtained a photo of the damage.
We know ... 24-year-old Barron spoke with police following the incident. He claims Lohan orchestrated the beating.
Barron told cops Lindsay approached him at the party with a male friend and began screaming, "'You talk sh*t about me to my boyfriend, this is what you get."
As the guy proceeded to pummel Barron, Hilton claims Lindsay was laughing and egging him on.
Cops were called to the scene and interviewed Barron. We're told Barron doesn't know the identity of his attacker but is adamant Lindsay is the person behind the attack.
We spoke to Michael Lohan who insists Lindsay had nothing to do with the attack and had left the mansion BEFORE the fight went down.
Michael claims there are several witnesses -- including security guards -- who will back up Lindsay's alibi.
Michael says Lindsay was adamant she didn't want to be around any trouble ... i.e. drugs, alcohol, violence ... and even had people removed from the house before the fight ever went down.
Problem with that alibi is -- the video of Barron nearly face-to-face with Lilo outside the mansion ... just moments after the fight.
Lindsay's had bad blood with the Hiltons for years -- stemming back to when Paris' friend Brandon Davis went on the infamous "firecrotch" rant back in 2006.