Alfonso Ribeiro -- Leaves Nightclub High and Dry -- Carlton Wants to Charleston
Alfonso Ribeiro
Leaves Club High and Dry
Carlton wants to Charleston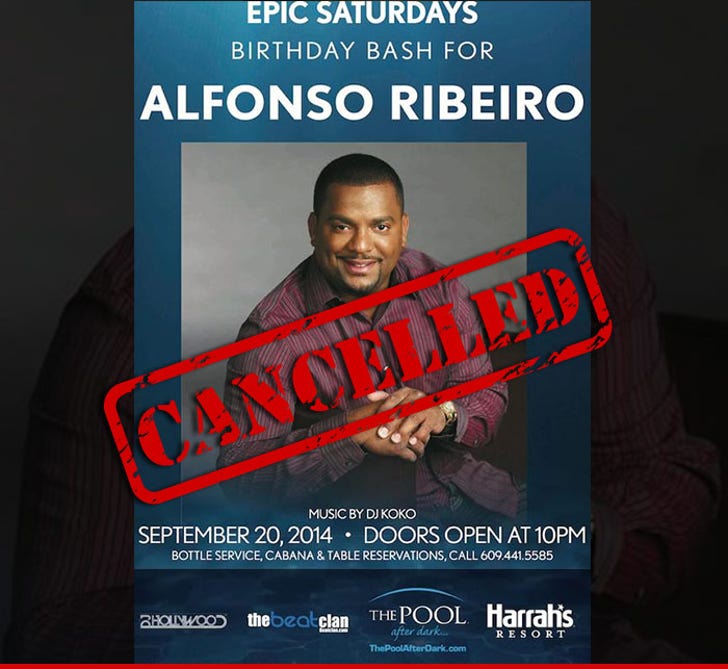 EXCLUSIVE
10:20 A.M. PDT -- Ribeiro's rep tells TMZ ... Alfonso was never booked for a firm date -- the hotel jumped the gun by printing and selling tickets with Alfonso's picture. We're told they've now worked out a settlement ... he says the club will issue a retraction and Ribeiro will appear at the club after he finishes DWTS.

Alfonso Ribeiro bailed on a heavily promoted birthday bash in Atlantic City -- costing the nightclub a fortune -- because he didn't want his tango to suck on a TV reality show.
Alfonso -- famous for The Carlton Dance -- made a last-minute decision NOT to headline The Pool After Dark event Saturday. He notified the club Wednesday, which is a problem -- his face is plastered all over the flyer.
Alfonso is a contestant on "Dancing with the Stars" and apparently he made the decision he could earn more if he wins the trophy. He could have made $35K at the club, but he stands to rake in $345K if he wins DWTS.
As for the club ... it got screwed. It has to eat the $1,500 it paid for a customized cake, and refund $10K worth of pre-sold tickets.
Shockingly ... we're told the club isn't going after Alfonso for all it's out.