Floyd Mayweather -- $1,000 A Plate Training Diet ... To Kick Manny's Ass
Floyd Mayweather's Diet
$1,000-a-Plate
To Kick Manny's Ass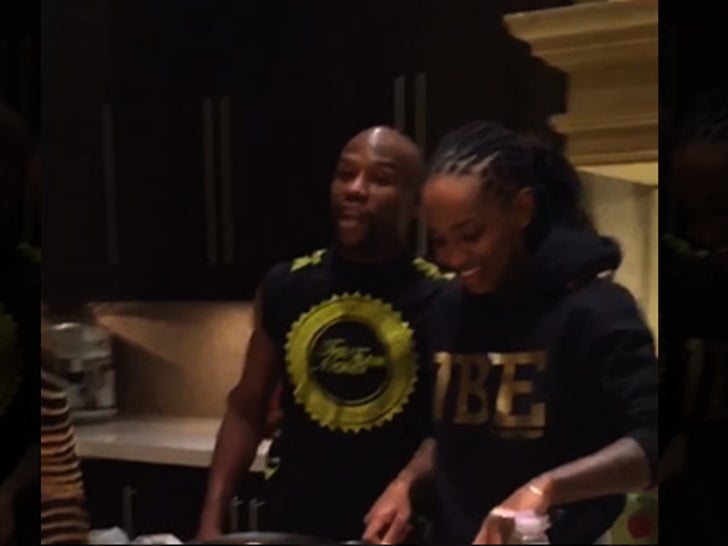 It's a good thing Floyd Mayweather's got a $150 million paycheck in his future ... 'cause he's paying the private chef who's cooking up his meals about $1,000-a-plate!!!
BTW -- 46 days 'til the fight ... 4 meals-per-day (at least) ... we're talking $184k ... and Floyd is more than happy to foot the bill!
The woman behind Floyd's diet is Chef Q ... who's based out of Vegas but will be with Mayweather every step of the way until the fight of the century on May 2nd.
"My daily schedule for Floyd is 'There is no schedule' ... I am here for him anytime. 24 hours, 7 days a week. If he needs me at 3am, I am there cooking up breakfast."
And every single thing Floyd eats is whipped up from scratch -- "He likes everything fresh. Nothing from bottles or cans because they have different preservatives that are not healthy for your body."
"His favorite dish is spaghetti or tacos," Chef Q says ... but for the Pacquiao fight, he'll be focusing on high-levels of protein with no carbs -- turkey, chicken, beef and fish ... NO PORK!
"Also, we are really big on juicing right now. So if Floyd wants something to drink, it's juiced through organic fruits."
One big problem for Floyd is his notorious penchant for fast food ... HE LOVES IT.
But Chef Q says he's essentially cut it out of his life ... including his beloved Fatburger -- that's how serious he is about beating Manny.
"He's always been mindful of what he eats but there is something different about this fight."
As for the $1,000-a-plate price tag ... Chef says she usually doesn't charge that high of a rate, but Floyd "felt my dishes were worth that much."