Shane Mosley & Roy Jones -- Hey Oscar De La Hoya ... We'll Fight You
Shane Mosley & Roy Jones
Hey De La Hoya
... We'll Fight You!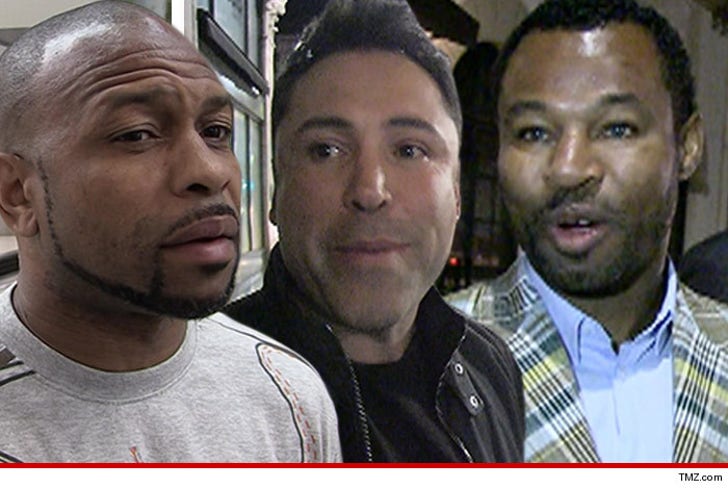 EXCLUSIVE
Wanna see the best fight between 40-somethings this side of Bobby Brown's family reunion?
As we previously reported ... De La Hoya's hinting hard at a return to the squared circle, saying in a recent radio interview that he thinks he's still got enough goods with the leather to compete.
We spoke to Mosley & Jones who both tell us they're willing to trade shots with the 42-year-old De La Hoya ... not just for money ... but to save the sport they love.
Mosley, who fought Oscar twice in the pros and once as an amateur, says a fight between the two would be a chance for Oscar to do the one thing he never did in his celebrated career ... beat him.
"I would fight him if the money was right. I got his number, he can't beat me."
Jones has an even better idea ... an epic geriatric tournament of pugilists where he, Oscar, Shane and Bernard Hopkins all establish who is the best old lion in the sport.
"The fights won't be a pitter-patter chess match. We're gonna be looking to knock each other out. It would actually be worth the $100 pay-per-view because of the legends."
Mosley adds, "If the real boxers like us came back to remind the fans what boxing is all about then boxing ratings would be improved. These new dudes are f**king up."
As for De La Hoya -- we're working on getting a comment. Stay tuned ...