49ers' Bruce Miller -- Busted for Assault ... Allegedly Punched 70-year-old Man
49ers' Bruce Miller
Busted for Assault
Allegedly Punched 70-year-old Man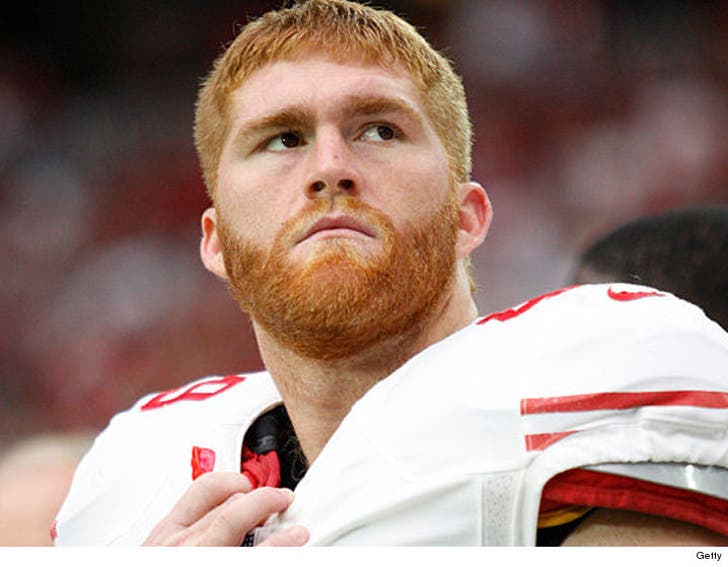 Exclusive Details
2:29 PM PT -- Miller bonded out and has been released from custody.
12:12 PM PT -- The 49ers announced they've released Miller.
49ers fullback Bruce Miller was arrested for allegedly attacking 2 men -- including one who was 70.
TMZ Sports confirmed Miller was busted for aggravated assault, elder abuse, threats and battery. Bail's been set at $178k.
The altercation went down early Monday morning after Miller -- who cops say was drunk -- tried entering a room occupied by an elderly couple at Fisherman's Wharf Marriott Hotel.
When a neighboring guest, the couple's son, told Miller he was at the wrong room, the football player charged at him. That's when the 70-year-old father came to his defense and Miller punched him ... breaking several of the man's bones. Both men were taken to a hospital.
Miller fled but cops tracked him down across the street at another hotel where he was arrested. The 49ers released a statement, saying, "The San Francisco 49ers organization is aware of the media report regarding Bruce Miller. We are gathering the relevant facts of this matter and will continue to monitor the situation."
KTVU was first to report the arrest.