Joey Chestnut Begins Starving Himself For Hot Dog Eating Contest
Joey Chestnut
Begins Starving Himself
For Hot Dog Eating Contest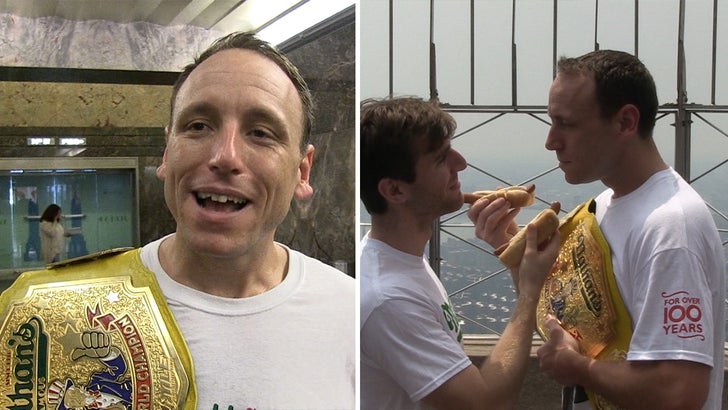 TMZSports.com
Hot dog scarfing legend Joey Chestnut is already preparing his body for war -- officially cutting off solid foods so he can be ready for the July 4th eating competition at Coney Island!!!
"I've already stopped eating," Chestnut told us Tuesday in NYC ... "No more solid food. Probably get a little sugar, maybe a little liquid amino acid but I'm gonna be empty and loose and ready to just tear it apart."
Chestnut owns the record for the famous Nathan's Hot Dog Eating Contest -- at 72 dogs! -- but he's confident this is the year he shatters that number!
"Hopefully I can break it! I feel like I can do it. I know that if I find that crazy rhythm in the beginning I can do it."
Joey's biggest competition is Carmen Cincotti -- who turns 25 on July 4th. He wolfed down 60 dogs during the 2017 competition and experts say he could be the one to unseat the legend.
Godspeed, weiner eaters ...