Conor McGregor Slams Whiskey, Trolls Khabib, 'I Would Have Killed You'
Conor McGregor
Slams Whiskey, Trolls Khabib
'I Would Have Killed You'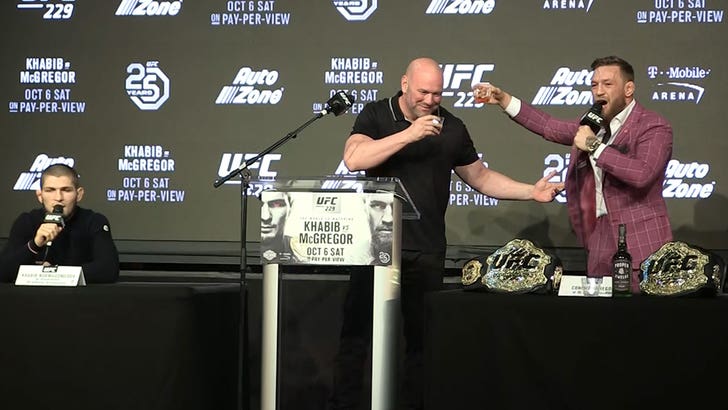 9/20/18
TMZSports.com
Yeah, it was all part of the insane UFC 229 media event in NYC on Thursday -- where Conor pounded whiskey and fired off dozens of explicit slurs at his opponent.
Conor called Khabib every name in the book -- and made up some new ones -- including:
-- "Little rat, little weasel."
-- "You little fanboy bitch."
-- "You mad backwards c*nt."
-- Regarding the bus incident, Conor said, "When the person you were looking for showed up, you took a sh*t on the back of the bus, so shut your f*cking mouth!!!"
-- "You're a fake lying rat. I'm real."
-- "We don't have to lick no one's a**hole for a check, like f*cking you!!"
There's more about the bus incident ... Conor blames Khabib for the people who were injured in that attack -- saying everything would have been fine if Khabib had the stones to get off the bus and fight.
"I just thank the Lord Jesus Christ that that man doesn't have the balls to step off that bus ... this man would be dead right now."
"He would be in a box and I would be in a cell and we would not have this great fight ahead of us."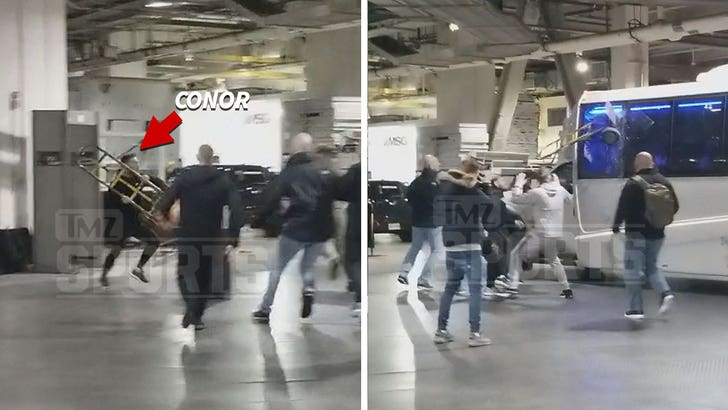 4/5/18
TMZSports.com
Conor also noted his whiskey -- Proper 12 -- is an official sponsor of the UFC 229 fight and will have a logo on the Octagon floor.