Khabib Apologizes for Attacking Conor McGregor's Coach and Suspension Likely
Khabib
I'm Sorry for Attacking Conor's Coach ...
Dana White Says Khabib's in 'Big Trouble'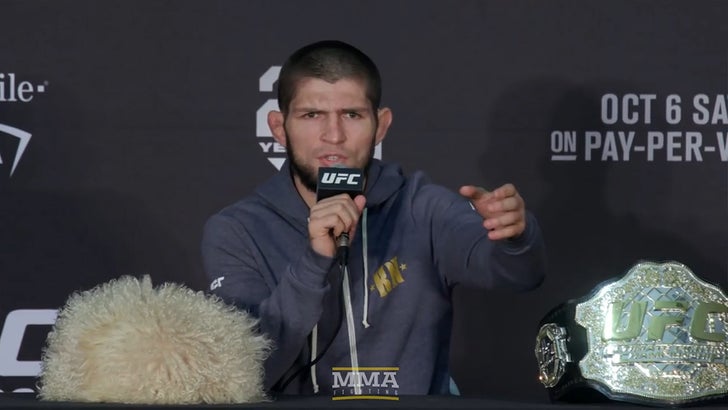 SBN
Khabib Nurmagomedov apologized for attacking Conor McGregor's coach after pounding the crap out of Conor to retain his title, admitting it was revenge for the Irishman's smack talk against him.
Khabib professed remorse to reporters, but also tried justifying his anger. He made it clear ... he reached a boiling point because Conor attacked him, his religion, his country and his father. He also referenced Conor's bus attack back in April, which resulted in criminal charges and injured 3 fighters. Khabib said he's only human, and he snapped.
For his part, Dana White was furious at Khabib and crew for the 2 attacks, saying they are all in "big trouble." He says Khabib's looking at a suspension and even raises the possibility of visa issues for the Russians.
The champ did not explain why Dillon Danis -- Conor's jiu-jitsu coach -- was Khabib's target.
Khabib, championship belt in hand, apologized to the Nevada Athletic Commission and added his father was going to "smash me" when he saw him.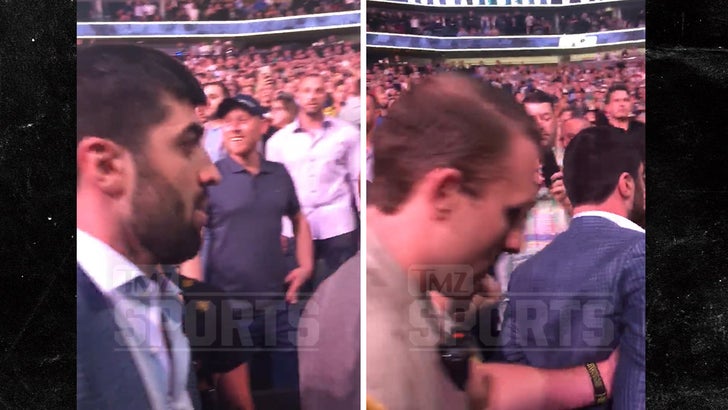 TMZSports.com
We got video of one member of Khabib's team as he was arrested and cuffed.
As for the 3 members of Khabib's team who jumped into the Octagon after the fight and sucker punched Conor ... they were arrested, but Conor decided not to press charges so they were released.