Rescued Thai Soccer Team Hits L.A., Bring On Hollywood!
Rescued Thai Soccer Team
Bring On Hollywood!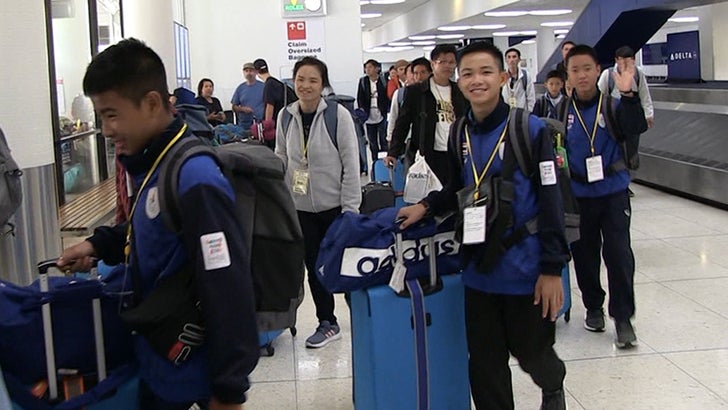 TMZSports.com
The Thai boys soccer team rescued from flooded caves back in July were stoked when they landed in Los Angeles today ... and it's all because they're about to go Hollywood!!!
TMZ Sports cameras were rolling as the 12 boys -- along with their coaches and other chaperones -- walked through the airport to their waiting bus ... smiling and throwing up the peace sign.
The team -- aka the Wild Boars -- were decked out in their spiffy Adidas uniforms and carrying their equipment in cool new travel bags. They just played a friendly game in Argentina against another youth squad as part of the 2018 Summer Youth Olympics opening ceremony.
But now, it's time for some R&R in L.A. -- the team is scheduled to hit up Universal Studios in the coming days where they'll get to experience everything from The Wizarding World of Harry Potter to King Kong 360 3-D.
Of course, it's nothing like surviving over 2 weeks in a crazy network of caves -- but they'll probably dig it.
The head of the Thai Olympic Delegation explained it this way -- "During the rescue operation so many people from around the world came to Thailand and collaborated to rescue them. They feel that they owe a debt to everyone."