Tyler, the Creator Crashes Tesla into Parked Car Early Thursday
Tyler, the Creator
Slams Tesla SUV into Parked Car
1:00 PM PT -- Tyler tweeted about the incident, saying he dozed off for a few seconds while driving home from a late night at a recording studio ... and that's why he crashed.
Tyler, the Creator violently crashed his Tesla Model X into a parked car ... and based on the video from the scene it's a miracle nobody was hurt.
The scary incident went down just after early Thursday morning near UCLA's campus. Cops say the crash was so powerful, the parked Honda CR-V was reportedly flung some 50 feet away. LAPD and LA Fire responded to the scene and miraculously reported no injuries.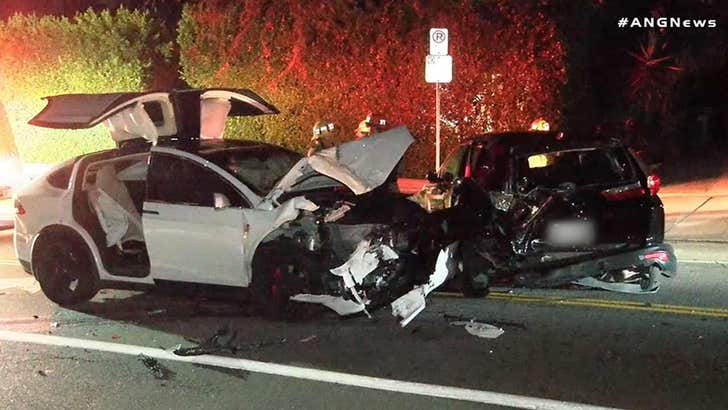 ANGNews
We're told Tyler left his info in the CR-V, which ultimately got in the hands of the owner. Poor guy seemed pretty bummed at first -- it's the second time his car's been smashed -- but he later seemed stoked it was Tyler's doing. He's expecting a decent check.
If you're a Tesla lover, the scene's pretty gruesome -- the Model X's entire front side is smashed in and the airbags -- front and side -- were deployed.
No arrests were made and no ambulance was called to the scene.
Originally Published -- 7:43 AM PDT