Shooter Opens Fire at Pittsburgh Jewish Synagogue, 11 Confirmed Dead
Domestic Terrorism
Shooter Opens Fire at Pittsburgh Synagogue
...11 Confirmed Dead
3:35 PM PT -- The Anti-Defamation League says the shooting is believed to be the deadliest attack on the Jewish community in U.S. history.
2:40 PM PT -- U.S. Attorney General, Jeff Sessions, issued a statement, saying in part: "Hatred and violence on the basis of religion can have no place in our society. These alleged crimes are reprehensible and utterly repugnant to the values of this nation. Accordingly, the Department of Justice will file hate crimes and other criminal charges against the defendant, including charges that could lead to the death penalty."
2:20 PM PT -- Officials say 3 handguns and an assault rifle were found at the scene, and the suspect, Robert Bowers, is in fair condition with multiple gunshot wounds.
1:10 PM PT -- Press conference with the Allegheny Director of Public Safety ... 11 fatalities and 6 injuries, 4 of the injuries were officers shot. There weren't any children injured or killed.
12:30 PM PT -- At least 10 dead, according to officials.
12:05 PM PT -- Pittsburgh public safety director Wendell Hissrich says there are 6 injuries, and 4 of them are officers. He described the crime scene as "horrific" and said the synagogue shooting is being considered a hate crime and will fall under federal investigation.
10:45 AM PT -- The suspected gunman has been identified by law enforcement officials as 46-year-old Robert Bowers.
9:15 AM PT -- We've seen what looks like the shooter's social media page, and it says "Jews are the children of Satan." His last post reads, "I can't sit by and watch my people get slaughtered. Screw your optics, I'm going in."
The shooter is reportedly a member of Gab, an alternative social media site frequented by white supremacists.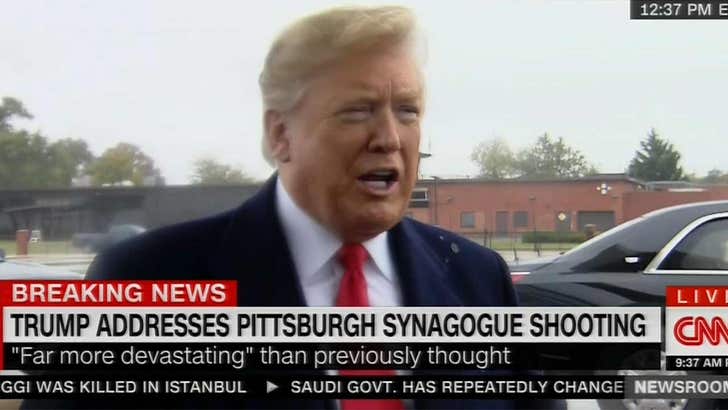 CNN
10:00 AM PT -- Donald Trump just said the shooting could have been prevented if someone inside the temple had a gun. He then weirdly talks about the death penalty, as if that might have prevented the shooting.
A gunman opened fire at a Jewish synagogue in Pittsburgh during a prayer service, 4 people are confirmed dead, and this was clearly an anti-Semitic attack.
The shooter entered the Tree of Life Congregation and began spraying bullets. According to cops, the shooter came with an AR-15 and said, "All Jews need to die."
When cops arrived, the shooter began firing at them. According to CNN, at least 3 cops have been shot.
Authorities believe as many as 8 people from the synagogue might be dead, and at least 12 have been shot.
Carnegie Mellon University, which is near the temple, is on lockdown.
Authorities have the shooter in custody.