'Too Stupid To Die' Stars Slap Each Other with Thumbtacks Taped to Hands
'Too Stupid to Die' Stars
Bitch Slaps with Taped Thumbtacks
Watch the Bloody Mess!!!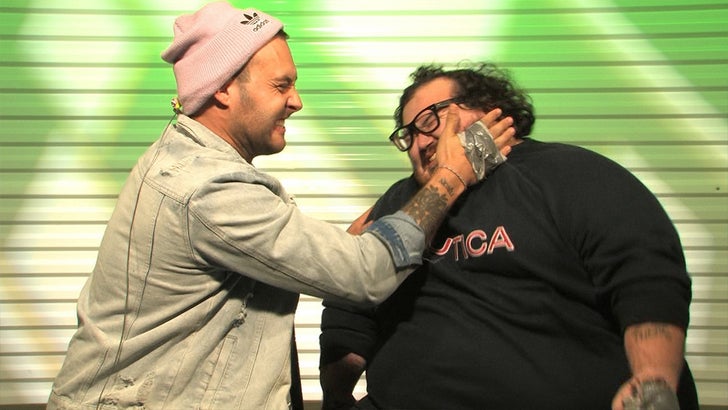 TMZ.com
"Too Stupid to Die" stars sure know how to get a kick outta slapping each other ... blood, cuts and scars be damned.
Chad Tepper and Zach Holmes appeared on "TMZ Live" Friday and told us a little bit about why they enjoy taking on the roles of this generation's "Jackass" ... taking a LOT from the playbook of Bam Margera and Steve-O. Chad and Zach summed it up with one word ... boredom!!
If you don't know ... Chad and Zach's new show on MTV -- which premieres Friday night at 9:30 -- has them putting themselves through some of the most ridiculous stunts ... like when Zach threw on a firecracker vest. You can guess it didn't go too well for Zach.
And, just for fun -- again, their words -- Chad and Zach had a little something up their sleeve for us. Actually, more like on their hands -- taped with thumbtacks, for a little slap game.
It goes without saying ... kids, do not try this at home.