Travis Scott Surprises Post Malone with Postmates Delivery of Chick-fil-A
Travis Scott
Surprise Delivery for Post Malone ...
Astroworld Chick-fil-A!!
Post Malone didn't have to lift a finger to eat well during his time at Travis Scott's Astroworld Fest, 'cause his host took care of him and then some with lots o' chicken.
Trav surprised Post Saturday with a huge Postmates delivery of Chick-fil-A and a group of hot Houston Rockets cheerleaders, all of which was waiting for the "rockstar" rapper in his trailer.
As far as what grub was on the menu, we're told it was a pretty simple order ... trays of well-done chicken tenders with 160 ounces of Buffalo sauce and 6 gallons of sweet tea. That's some good eatin'!!!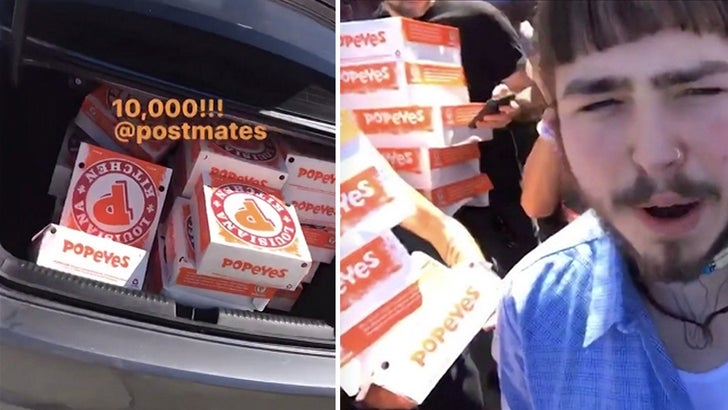 APRIL 2017
Post is no stranger to Postmates, BTW. In fact, they kinda love the guy on account of how much he drops on their delivery service. He spent upwards of $8,000 last year to bring 10,000 of Popeye's biscuits to his Coachella set for folks to eat and dropped more than $40k over the last year with them to become a star customer.
Unclear who footed the bill this time around, but something tells us it very well might've been on the house. It's the least Postmates can do, really.