World Series Boob Flasher Julia Rose Rips Topless Double Standard, Men Can Do It!
World Series Boob Flashers
Rip Topless Double Standard
... Men Can Do It!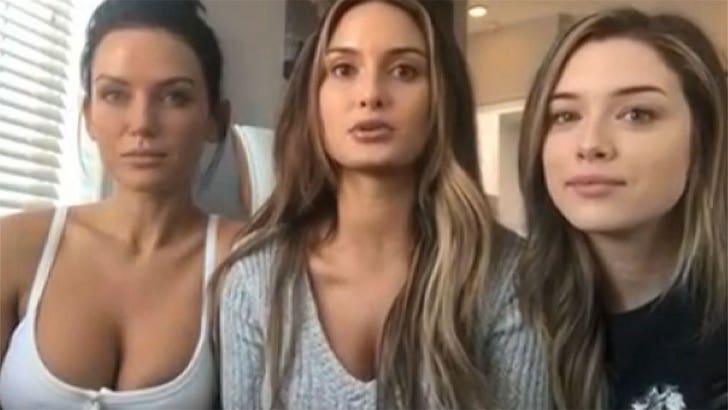 TMZSports.com
12:10 PM PT -- TMZ Sports spoke with the 3 women who bared their breasts at the World Series ... who say it's completely UNFAIR for them to be banned for life while men have been going topless at sporting events for decades!
All 3 women say they're proud supporters of the "Free the Nipple" campaign and all work (and pose) for a magazine that promotes topless equality and sexuality.
The women say they planned the stunt to raise awareness for breast cancer month (they also admit it was a plan to promote their own careers) ... but point out the ridiculous double standard when it comes to women going topless.
The women have been banned indefinitely from attending MLB games while men who have lost their tops regularly face ZERO punishment.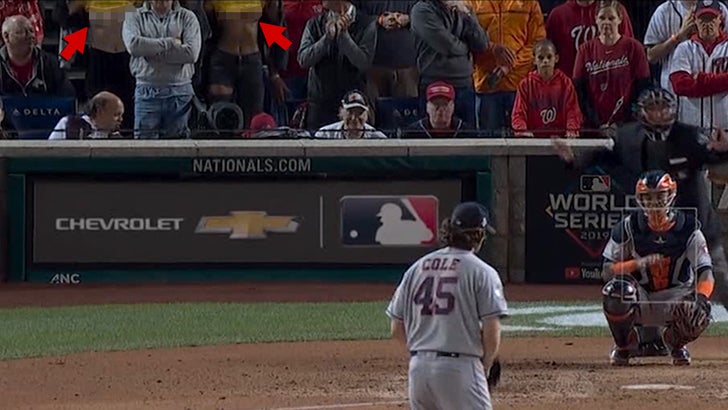 MLB
2 smokin' hot models flashed their boobs during Monday night's World Series game ... and now MLB has BANNED the women!!
The incident -- caught by TV cameras -- went down in the 7th inning of Game 5 of the WS between the Nationals and Astros in Washington D.C.
Julia Rose and Lauren Summer -- who have 2.8 and 1.5 million followers on Instagram, respectively -- were seen lifting their shirts up as Gerrit Cole prepared to throw a pitch.
The game was briefly held up ... and security apprehended Rose and Summer and escorted them from their seats.
Rose and Summer's accomplice, Kayla Lauren (also a model), claims the women were taken to police headquarters ... before being released.
Rose posted a letter she says she got from Major League Baseball ... that banned her from MLB events.
The letter, from baseball's VP of Security, says ... "On October 27, 2019, you attended World Series Game 5 at Nationals Park in Washington D.C. During the game, you violated the fan code of conduct by exposing yourself during the 7th inning, in order to promote your business."
"You are hereby banned from all Major League Baseball stadiums and facilities, indefinitely."
"You were also part of a scheme in which you induced others to expose themselves to promote the business."
Why'd they do it? Julia says the motivation was a mix between promoting their publication, ShagMag ... and raising awareness for breast cancer.
Originally Published -- 7:01 AM PT