Lisa Vanderpump's Restaurant Rammed By Ferrari, Husband Says It Happens
Lisa Vanderpump
Ferrari Rams Her Restaurant ...
Hubby Says It Happens
TMZ.com
4:04 PM PT -- Law enforcement sources now seem to be confirming what Ken told us ... that the guy was allegedly cut off in traffic, which caused him to lose control and slam into the restaurant.
3:26 PM PT -- TMZ just spoke with Lisa's husband, Ken Todd, after the car crash, and he was actually in pretty good spirits ... all things considered.
Ken tells us that he'd spoken to the driver -- the guy in the white shirt -- and apparently, the dude claimed he'd been cut off in traffic and accidentally swerved into their patio. We asked if he was pissed, and surprisingly ... Ken's not! He says these things happen ... c'est la vie.
Definitely a great attitude to have after such a shocking event. Not only that, but Ken says he's going to keep the restaurant open for the rest of the day and seal off the patio area as it gets worked on. He also tells us one lady got slightly cut up on her arm, but other than that ... no major injuries, thankfully.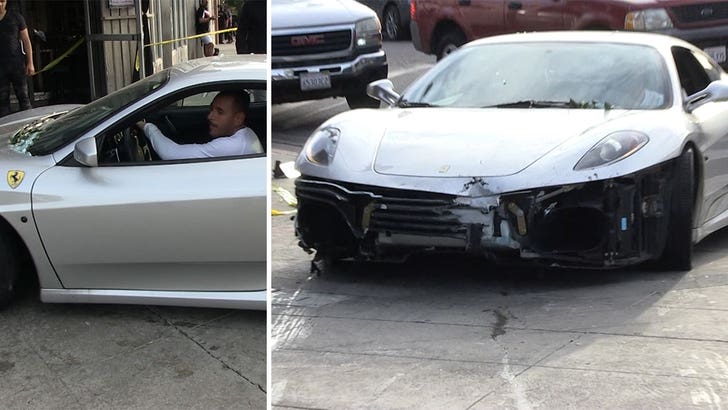 TMZ.com
Check out what he says when we ask how Lisa's taking the news ... sounds like she might be a bit more panicked than her hubby. As for the driver of the Ferrari, he was busy talking to cops, and later ... we saw him pull the vehicle out and drive off. It still worked!
We're working on identifying the guy, but it seems the matter's being handled by the appropriate parties.
2:38 PM PT -- We're being told by law enforcement officials familiar with the investigation that the accident doesn't appear to have damaged the structure of the building -- the wreck just tore through Lisa's restaurant patio. Cops also say drugs and booze don't appear to be a factor here.
2:28 PM PT -- Law enforcement sources tell TMZ ... the Ferrari was apparently trying to make a left turn on one of the surrounding streets, but clearly ... he lost control. We're told one person thus far has been transported to the hospital with non-life-threatening injuries.
Lisa Vanderpump's restaurant got greeted with a sports car that came smashing through the front doors ... which left shattered glass and a chaotic scene behind.
The accident went down Sunday at the reality star's place of business in West Hollywood -- it's called Pump, and it's a restaurant, garden and a lounge. Somehow, a silver Ferrari jumped the curb and smashed through the patio seating area into the building itself.
The aftermath looks insane, with broken pieces of glass everywhere. It looks like Lisa's husband, Ken Todd, was on the scene as firefighters and first-responders attended to the damage. According to reports from the ground, no major injuries were sustained.
It's unclear what how or why the car ended up on Lisa's doorstep. We're looking into it to get more info.
Originally Published -- 2:22 PM PT