Chris Cuomo to Gov. Cuomo
My COVID-19 Hallucinations
Included You in a Tutu!!!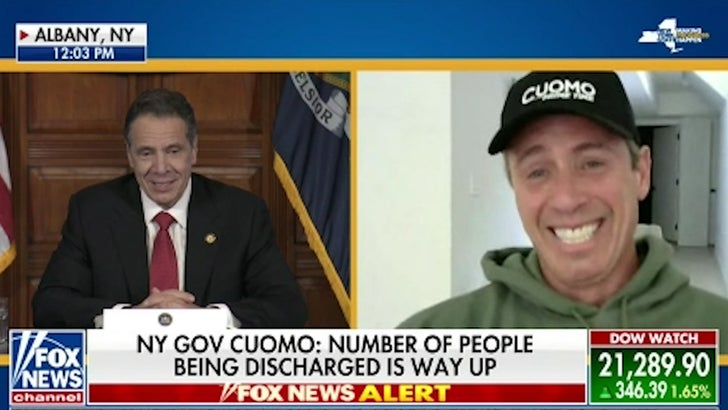 Fox News
10:32 AM PT -- Chris joined his brother, Andrew Cuomo's, press briefing Thursday morning to talk more about his experience with COVID-19, but of course ... they couldn't resist taking some good-natured brotherly shots at each other.
CNN
The NY Governor was mostly on the receiving end of the CNN anchor's jokes -- about his hair and his fishing skills among other things -- but Chris also elaborated on his crazy hallucinations and dreams ... one of which involved Andrew in a ballet outfit.
Chris Cuomo says the effects of the coronavirus are no joke ... it's been so bad he says he chipped his tooth from violent shivers and hallucinated seeing his dead father.
The CNN anchor ended his show Wednesday night describing the horrors he's experienced from contracting COVID-19 ... and he says he now gets why hospitals are being flooded with scared patients.
Cuomo said he was up all night Tuesday with a 103-plus fever "that wouldn't quit" and tightness in his chest. He said, "I was shivering so much, that Sanjay's right, I chipped my tooth." And for good measure ... he let his audience know his chompers aren't cheap.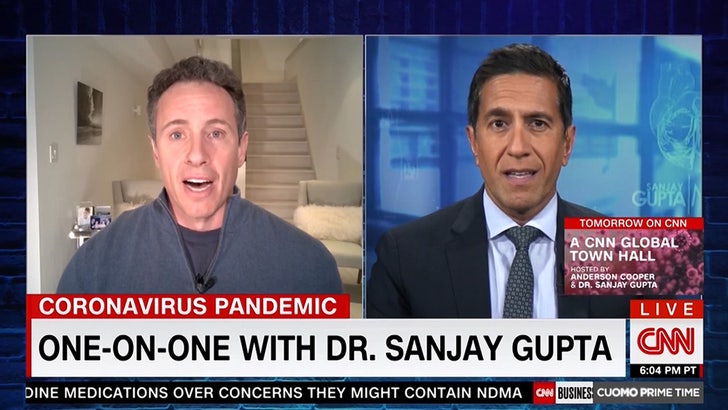 CNN
Then, the hallucinations. Chris said, "I tell you, I was hallucinating. My dad was talking to me." Cuomo's dad is the former NY Gov. Mario Cuomo, who died in 2015.
In short ... Chris says the virus came at him like nothing he's ever seen or experienced. And he issued a warning to young, healthy and strong Americans ... nobody's safe from the virus.
But believe it or not ... what scares him the most is not knowing whether he may have spread the virus to his wife and kids. Chris said not being able to protect them has been difficult ... since he's now relegated to his basement.
As we reported ... Chris was diagnosed with the disease earlier this week. At the time, Chris said he was feeling well and would continue to broadcast his prime-time show from his home. But it seems the virus has really hit peak level.
Originally published -- 7:27 AM PT