Indianapolis Police Shooting Victim ID'd as Sean Reed, Mike Epps Furious
Indianapolis Live Stream Shooting
Man ID'd as Sean Reed ...
Mike Epps's Furious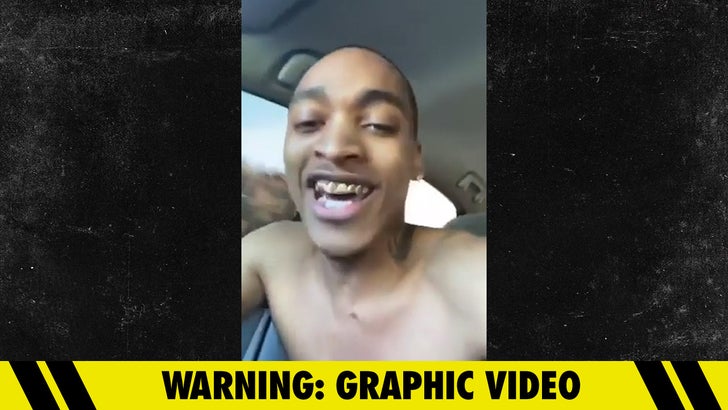 5/6/2020
8:41 AM PT -- The shooting victim has been identified as 21-year-old Sean Reed. The shooting sparked outrage and protests Thursday attended by more than 100 community activists and organizers. Comedian Mike Epps, who is from Indianapolis, also chimed in on the fatal shooting calling on the cops to be punished. He added, "We gotta stop giving them an opportunity to kill us. They're killing us because [they're] watching us kill us.
6:21 PM PT -- The shooting victim is dead ... according to local news reports. Police reportedly claim they used a stun gun on the man before the fatal shooting.
5:58 PM PT -- According to the police scanner, cops were in pursuit of a vehicle around 6 PM and the car chase lasted for about 10 minutes before officers called it off.
A few minutes later, an officer reported seeing the driver of the vehicle from the pursuit running near the intersection from the video. An officer later said there was a shooting and the subject from the chase was down.
A man running from cops was gunned down by police after bailing from a car ... and the officer-involved shooting was captured on the dude's live stream.
The wild scene unfolded Wednesday afternoon in Indianapolis ... and the video picks up with the man behind the wheel of a car, calling out the street he was on ... and pleading for someone to "come get my stupid ass." All of this as he live streamed from a phone.
After bailing from the car, he started running on foot. It sounds like someone yelled, "Stop, stop." Then you clearly hear him respond, "F**k you" ... and then a flurry of gunshots rang out as the man fell to the ground. The phone's camera came to rest pointed up toward the sky ... and continued streaming.
That was followed by tons of police sirens and someone screaming, "Oh my God!"
Indianapolis police confirm there was an officer-involved shooting at the intersection the man yelled out on the video. It's unclear if the man was armed or why he was even on the run. Police say no officers were injured.
Much of the video is shaky and there's no perspective as to what was happening around him, but police say they're investigating what led up to the gunfire.
Originally Published -- 5/6 5:42 PM PT