Tekashi 6ix9ine Releases New Video Upon Release, No Major Legal Issues
Tekashi
Shoots Music Video Upon Release ...
Already Out, No Big Issues from Cops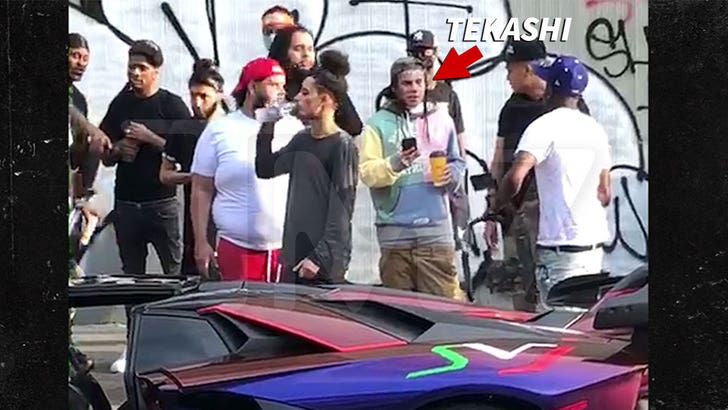 TMZ.com
1:14 PM PT -- Welp, that was fast. The video Tekashi was filming JUST THIS MORNING is already up out in the ether -- as in, it's up on YouTube mere hours after shooting it.
The song's called "PUNANI" and it features T69 and a bunch of his on-set buddies cruising around Brooklyn in a crap ton of Lambos and SUVs -- flashing cash, showing off hot girls, the usual really. It's not a bad song either ... as for the production value, we'll let you judge.
Now, if you watch it ... you'll see that the dude and his posse are on the move and kinda all over the city -- or at least all around that borough. There's a part where they're on the bridge on top of the cars, seemingly driving recklessly ... which has caught the attention of NYPD.
Law enforcement sources tell us they're alarmed at the behavior and could potentially summons him for violating basic traffic laws, but we're also told ... it doesn't sound like any criminal charges would stick to him from this. Also, dude didn't need a permit for the way he was filming ... which was basically guerrilla-style. So, no harm no foul, really, legally speaking.
Anyway, here's the first of what we're sure will be many new videos and songs to come now that the boy is out and about. Be easy out there, 6ix9ine.
Tekashi 6ix9ine is fully free, having just completed house arrest, and he's already out shooting a music video.
We got this vid of Tekashi out in Brooklyn Sunday, bright and early (7:30 AM) .... alongside some super wild rides.
It's no surprise ... a few security guards were patrolling the area, along with a massive entourage. Security was blocking several streets, stopping drivers from coming through. It's pretty clear they had permits to shoot the video ... otherwise, cops would have shut it down.
The cars are crazy -- 2 colorful Lambos, an orange McLaren, a yellow Dodge Charger and a Benz.
Tekashi, who was released from house arrest Saturday, is on 5 years supervised probation. Most people thought he'd go into witness protection, but he's shunned that, and the music video is evidence ... he's not hiding from anyone.
Originally published -- 7:27 AM PT