Ronnie Magro's Ex Jen Harley, Chad Johnson Set Me Up in Make Out Video
Jen Harley & Chad Johnson
Vegas Make Out Session ...
Jen says Chad set her up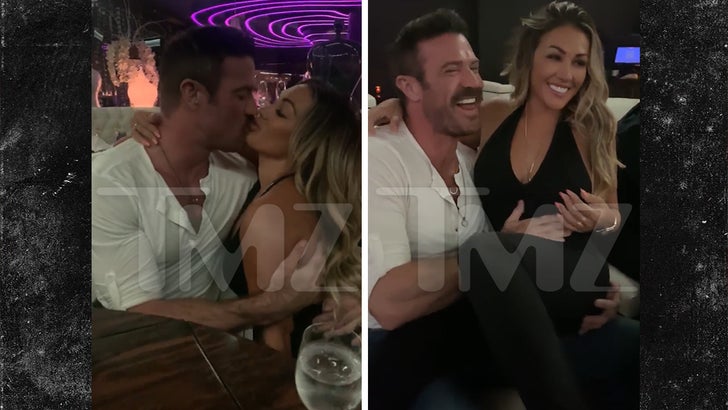 TMZ.com
8:12 AM PT -- Jen's rep tells TMZ, her client was set up by Chad, saying, "Jen Harley is not dating Chad or anyone for that matter. Jen is only friends with Chad and had met up with him to show him a house earlier that day for sale."
The rep goes on to say, "Jen had not had anything to eat all day, she was drinking alcohol at the club and was extremely intoxicated. Jen does not remember anything in the video and is disgusted and embarrassed by her actions. Jen feels she was set up by Chad and his friends who were clearly taking videos to sell to the press."
Chad -- the reality TV star turned aspiring porn mogul, who's sporting an appropriate mustache -- and Jen were all over each other Thursday night at JING ... in a scene that looked like it could be a teaser for an adult film.
The 2 threw masks and social distancing to the wind as they made out multiple times in front of friends and everyone else at the joint ... and Jen even gave Chad a lap dance.
As you can see.. they kept the PDA going outside the restaurant later on.
Strangely enough, we're told the 2 met through Ronnie ... Chad used to be buddies with the "Jersey Shore" star. Chad and Jen apparently hit it off recently at a lunch.
It's an interesting pairing for sure, but perhaps not surprising. Jen has had a volatile relationship with Ronnie for a few years now ... and Chad recently had a serious domestic issue with his ex-girlfriend as well.
Both Chad and Ronnie recently copped plea deals in their separate domestic violence cases.
Originally published 12:50 AM PT