Racism in Royal Family Seemed Evident Early On in Meghan's Tenure
Royal Family
Evidence of Racism Seemed Apparent
Early in Meghan's Tenure
Meghan Markle's claims of racism against the Royal Family appear to be partially backed up by the fact this very issue came up early on -- remember the brooch?
If ya don't, Princess Michael -- who's married to one of Queen Elizabeth's cousins -- apologized back in late 2017 when she was called out for wearing a Blackamoor brooch to a Royal gathering Meghan attended ... the first Christmas lunch since getting with Harry.
The brooch depicts a dark-skinned person wearing a turban, and it's thought to glorify colonialism and servitude ... as that line of jewelry often portrays POC in lesser-than positions.
Princess Michael said she meant nothing by it when she wore it to the lunch, and wasn't trying to offend or send a message to Meghan specifically.
Still, it's not a good look in light of what Meghan and Harry alleged in the explosive tell-all with Oprah -- namely, that they'd been informed by a member or members of the Royal Family that Archie's skin color could potentially be a problem, if he was born "too dark."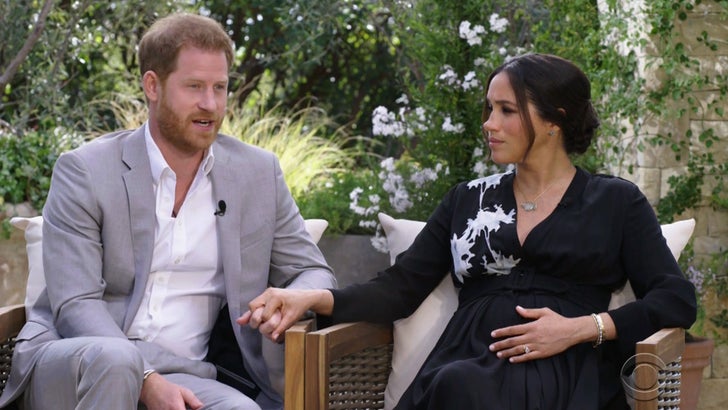 CBS
They wouldn't name the alleged perpetrator(s), but Harry did rule out 2 names in a follow-up chat ... saying neither Queen Elizabeth nor Prince Philip uttered such words.
The Royal Family, of course, is quite vast ... so it could be anyone who might've said this.