Meyers Leonard Apologizes For Using Anti-Semitic Slur, On Indefinite Leave From Heat
NBA's Meyers Leonard
Sorry For Using Anti-Semitic Slur
... On Indefinite Leave From Miami Heat
7:03 PM PT -- The Miami Heat say the organization "vehemently condemns" the anti-Semitic comment made by Leonard, and have announced he will NOT be with the team while the NBA investigates the situation.
"The Miami HEAT vehemently condemns the use of any form of hate speech. The words used by Meyers Leonard were wrong and we will not tolerate hateful language from anyone associated with our franchise," the Heat tell TMZ Sports.
"To hear it from a Miami HEAT player is especially disappointing and hurtful to all those who work here, as well as the larger South Florida, Miami HEAT and NBA communities.
The team continued ... "Meyers Leonard will be away from the team indefinitely. The Miami HEAT will cooperate with the NBA while it conducts its investigation."
4:57 PM PT -- Meyers Leonard is now apologizing for the incident ... claiming he didn't know what the word meant at the time, but says his "ignorance about its history" is not an excuse.
"I am now more aware of its meaning and I am committed to properly seeking out people who can help educate me about this type of hate and how we can fight it," Leonard said on Instagram.
"I acknowledge and own my mistake and there's no running from something like this that is so hurtful to someone else."
Leonard goes on to apologize to Miami Heat owner Micky Arison (who is Jewish), his teammates, coaches, fans and the Jewish community.
"I promise to do better and know that my future actions will be more powerful than my use of this word."
4:19 PM PT -- The world-famous FaZe Clan organization is distancing itself from Leonard ... releasing a statement denouncing his actions.
"We were incredibly disappointed to hear Meyers' stream today," the organization said.
"FaZe does not tolerate hate speech or discriminatory language of any kind."
Worth noting -- Leonard was NOT a member of FaZe, but an investor. Either way, the org. is washing its hands of the guy.
1:45 PM PT -- The NBA has released a statement on the video ... saying the league is in the process of gathering more info on the incident.
"The NBA unequivocally condemns all forms of hate speech."
1:32 PM PT -- The Miami Heat are reviewing the footage, a team spokesperson told N.Y. Times reporter Marc Stein.
Origin PC -- one of Leonard's gaming sponsors -- has severed ties with the NBAer as well.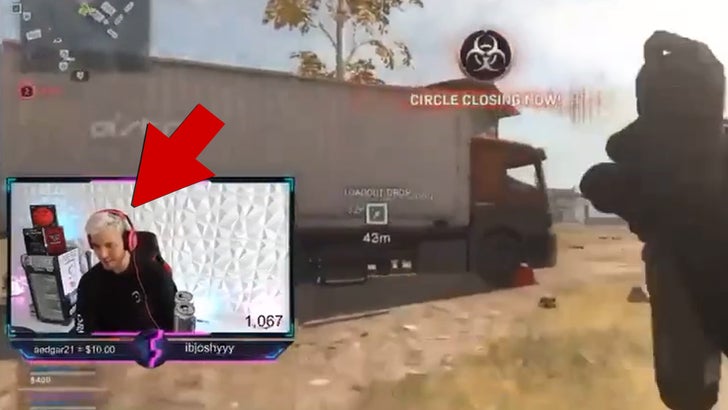 Twitch.tv
Meyers Leonard is in some seriously hot water -- the Miami Heat center appeared to use an anti-Semitic slur during a recent video game stream this week ... and it was all captured on video.
The 29-year-old was playing "Call Of Duty: Warzone" on his Twitch channel -- which has nearly 70,000 followers -- when he seemingly says the following: "F***ing cowards, don't f***ing snipe me, you f***ing k*** bitch."
The comment was met with awkward laughter by other gamers on the stream ... but Leonard seemed to brush off the situation and kept playing.
Leonard has yet to address the incident -- he was actually still streaming on his channel early Tuesday afternoon -- but it's only a matter of time.
ML could now face punishment from Twitch -- the streaming service has a strict policy against hateful conduct and harassment based on race, ethnicity, color, caste, national origin, religion, sexual orientation and more.
Leonard's alleged comments come just months after NASCAR driver Kyle Larson was suspended after using the n-word during an iRacing event in April.
Fellow NASCAR driver Hailie Deegan also faced criticism after using the r-word during a virtual race in January.
FYI -- Leonard was one of the few NBA players who chose not to kneel for the national anthem during the season restart in Orlando.
I STAND.
.
I STAND FOR the men and women, like my brother who have served this country.
.
I STAND AGAINST the violence and riots in DC.
.
I STAND in solidarity with my teammates and brothers.
.
I STAND AGAINST bigotry, racism, and hate. pic.twitter.com/cw6CNNbjB9

— Meyers Leonard (@MeyersLeonard) January 7, 2021 @MeyersLeonard
He explained his decision to stand in a tweet earlier this year, saying, "I STAND AGAINST bigotry, racism, and hate."
We've reached out to Leonard's reps, the Heat, the NBA and Twitch for comment ... so far, no word back.
Originally Published -- 12:52 PM PT