Youth Basketball Players Violently Attack Referee After Game, Cops Investigating
Georgia Youth Basketball
Players Violently Attack Ref After Game
... Cops Investigating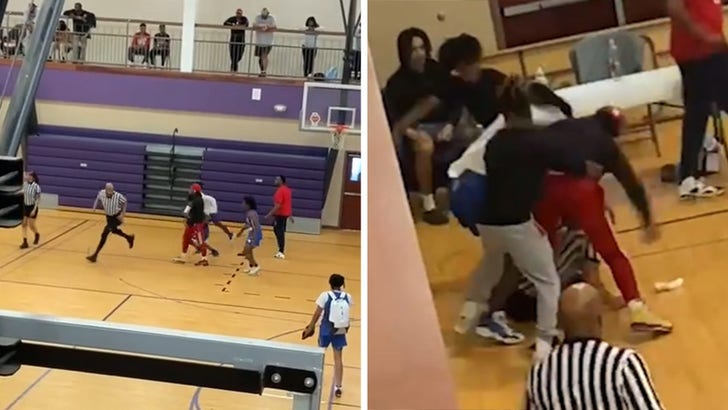 @guttagangstuntman
Several youth basketball players beat the hell out of a referee following a game in Georgia over the weekend -- and the violent punching and kicking was all captured on video.
The alarming scene went down Sunday at Stronghold Christian Church in Lithonia, GA ... when, following a contest on the floor, multiple players from one of the teams went after one of the game's refs.
You can see in video from the scene -- a couple of young men chased after the guy in the striped shirt, who for a few seconds, appeared to be defending himself well.
But, eventually, there became too many people involved in the attack -- and the guy appeared to be brutally beaten on the floor.
Footage shows the man was kicked and punched in the face repeatedly ... before his attackers finally let up.
No word on if the man sustained serious injuries ... but a spokesperson for the Dekalb County Police Dept. tells TMZ Sports cops did respond to the scene in reference to an assault.
The spokesperson added an investigation into the incident is underway.
A rep for the church, meanwhile, said in a statement following the game, "It is truly unfortunate about the turn of events that took place during the basketball game held at our facility this weekend."
"We open our doors to serve our community and our goal is to provide an atmosphere conducive for enjoyment, enrichment, etc."
The rep added, "While we can not control people, it is our hope and prayer that those who enter our facility will conduct themselves in the best manner. Our prayers go out to all those involved in this current situation."