Mariners' Cal Raleigh Visits School After HR Reaction Video Goes Viral
Mariners' Cal Raleigh
Visits Elementary School
... After Student HR Video Goes Viral
Mariners catcher Cal Raleigh was so moved after seeing a classroom full of elementary school students lose it after he smashed a playoff home run, the big leaguer went to the classroom and hung out with the kids!
25-year-old Raleigh visited Cascade View Elementary School in Snoqualmie, WA, where he spent time with a group of fifth-graders who recently went viral for their reaction to Raleigh's dinger.
Mr. Rooney, a teacher at Cascade, posted video of his students going nuts after Raleigh blasted a homer in the wild card round of the playoffs against the Blue Jays.
And, the kids had reason to cheer. Raleigh's two-run blast in the first inning off Jays' ace Alek Manoah propelled Seattle to a 4-0 victory that day.
Seattle ended up sending the Jays home, but then lost to the Houston Astros in the ALDS.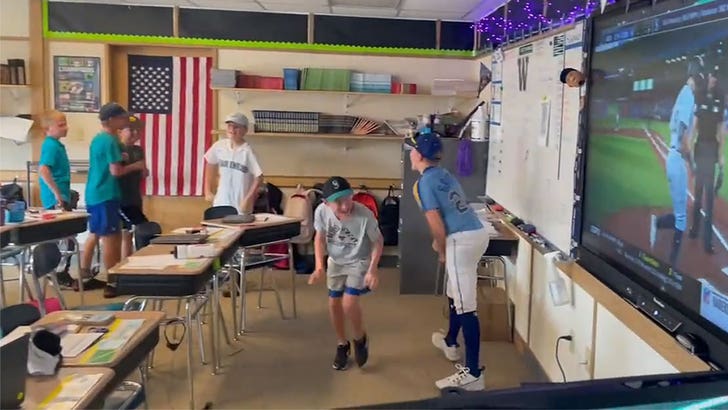 10/7/22
Twitter / @MisterRooney
Little did Rooney know ... Cal got wind of the video, and decided to show his appreciation for the youngsters by spending quality time with them.
Raleigh -- who hit 27 home runs in his second season with the Mariners -- posed for pics with the kids, who were all smiles throughout the day, and he even answered questions, too.