Tupac Vegas Search Warrant Tied to Keefe D, Uncle of Rumored Killer
Tupac Shakur
Vegas Search Warrant ...
Tied to Uncle of Rumored Killer
9:08 AM PT -- We've learned Clemons did not own the Compton home where the Tupac murder weapon was found back in '98.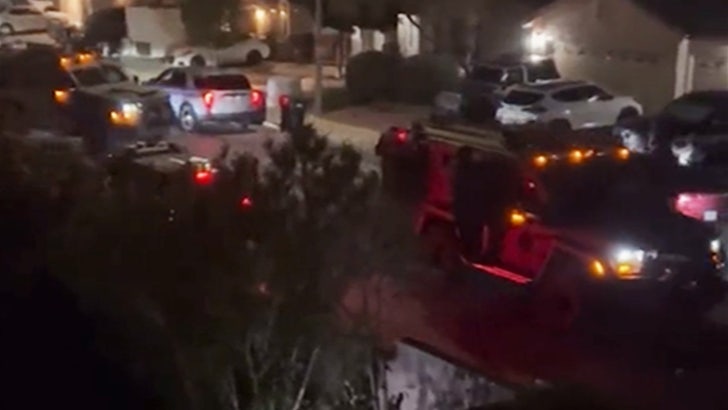 7/19/23
KTNV 13 Las Vegas
Also, KNTV got video of SWAT officers swooping into the neighborhood Monday night to execute the search warrant at Clemons' Henderson home.
The home cops raided in Vegas this week in connection with the unsolved Tupac murder belongs to the wife of a guy who says he was in the car with a man who shot and killed the late rapper.
TMZ has confirmed the address where Vegas Metro executed a search warrant Monday night ... it's owned by a woman named Paula Clemons -- who's married, we've learned, to Keefe D.
Folks familiar with Tupac lore know exactly who Keefe D is -- he's a former Crip, and for years now he's been doing interviews claiming to be the uncle of the late Orlando Anderson ... who's been suspected, at least on the streets, to have been the shooter.
Orlando and his crew -- including Keefe -- were in Vegas that night ... and Orlando was actually jumped by Tupac, Suge Knight and other Death Row affiliates at the MGM Grand. It's an altercation that was caught on surveillance video ... and many thought Orlando might have orchestrated a revenge shooting after the Mike Tyson fight that night. FWIW, Orlando himself had denied any involvement before he was killed in a shootout himself.
As for Paula, she also owned a home in Compton in the '90s ... what's interesting, in 1998, the L.A. County Sheriff's Dept. recovered a gun in the backyard of a Compton home ... a home the Sheriff's Dept. said belonged to the girlfriend of known Crip who was in Vegas the night of the murder.
As we reported, cops raided Paula's Henderson, Nevada home Monday. The reason the raid is significant is because, to obtain that warrant, police had to show a judge there was probable cause to believe there was evidence in the home connected to Tupac's murder.
Cops are not saying what they recovered from Paula's Henderson home.
We covered it all on the latest of The TMZ Podcast, available on all podcast platforms.