Oscar De La Hoya Thinks Crawford Beats Spence, But Fight's 50/50!
Oscar De La Hoya
Crawford Likely Beats Spence
... But It's A 50/50 Fight!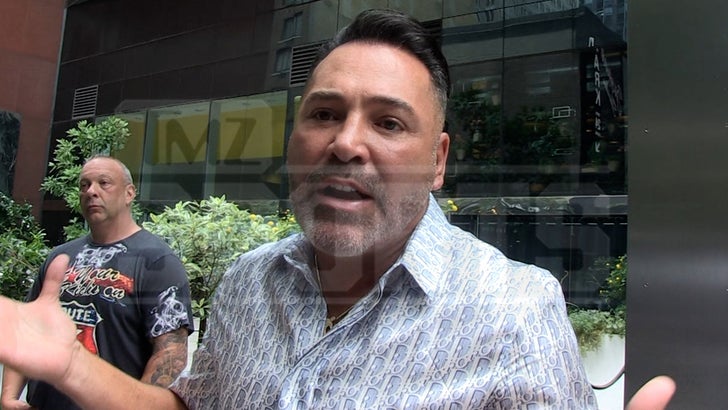 TMZSports.com
Oscar De La Hoya is weighing in on one of the best fights in years -- Errol Spence vs. Terence Crawford -- a fight The Golden Boy agrees is as close to evenly matched as a fight could be ... but that doesn't mean the boxing legend doesn't have a prediction!
"I think it is a 50/50 fight," De La Hoya told us in NYC on Wednesday ... before giving us his pick.
"I like Crawford, I've always liked Crawford. I mean, I love Spence, but Crawford has more of the elusive style, more combinations. It's gonna be a good fight. If Spence wins, he's gonna knock out Crawford. If Crawford wins, it'll go to decision."
Vegas seems to agree with the boxing legend ... Crawford is a small favorite in the bout, heading into fight week around -160 (wager $160 to win $100).
Of course, it's the fight boxing fans have been talking about -- clamoring for -- for years ... and it's just a week and a half away, going down July 29 at the T-Mobile Arena in Las Vegas.
Spence, 33, is undefeated with a record of 28-0 with 22 knockouts. He's the unified welterweight (147 lbs.) champion, holding the IBF, WBC, and WBA belts.
As for Crawford, he too has never lost ... and comes into the fight with a 39-0 record with 30 knockouts. "Bud" is also a champ, holding the WBO welterweight belt. He's been champion in three different weight classes.
There's more with ODLH. We also talked to the boxing Hall of Famer about the Tyson Fury and Francis Ngannou "money grab" boxing match, scheduled for October.
Oscar, who was a big critic of Conor McGregor and Floyd Mayweather's fight, seems to have come around on the idea of a MMA-boxing crossover super fight!