Novak Djokovic Meets Tom Brady After Semifinal Win at US Open
Novak Djokovic
Gets Suprise Visit From Tom Brady ...
After US Open Semifinal Win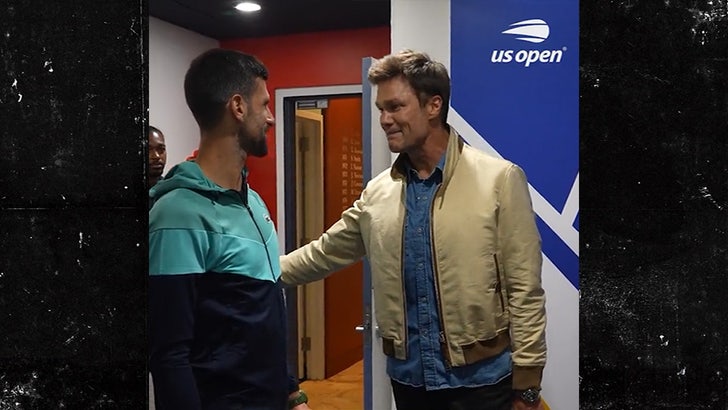 US Open
Novak Djokovic was one happy camper Friday night ... not only did he advance to the finals of the US Open, but he got a surprise visit from Tom Brady.
The tennis great and NFL legend came face to face in a locker room at New York's Flushing Meadows Corona Park after Djokovic beat Ben Shelton 6-3, 6-2, 7-6 in their semifinal match.
Brady showed up to congratulate Djokovic on his victory, propelling him into the finals against Daniil Medvedev. The retired quarterback even brought along his 3 kiddos -- Jack, Benjamin and Vivian -- to meet the world's No. 2 ranked tennis player.
Check out this video posted to X ... Brady and Djokovic shake hands and embrace, both men smiling.
Brady then offers Djokovic some encouragement, "Keep kicking ass, as always." Djokovic replies, "Trying, trying."
One by one, Brady introduces his children to Djokovic before admitting he unfortunately missed Novak's semifinal match.
Didn't seem to matter. The sports stars really hit it off.