El Chapo's Wife Parties in L.A. After Prison Release
El Chapo
Wifey Parties in L.A.
Days After Prison Release!!!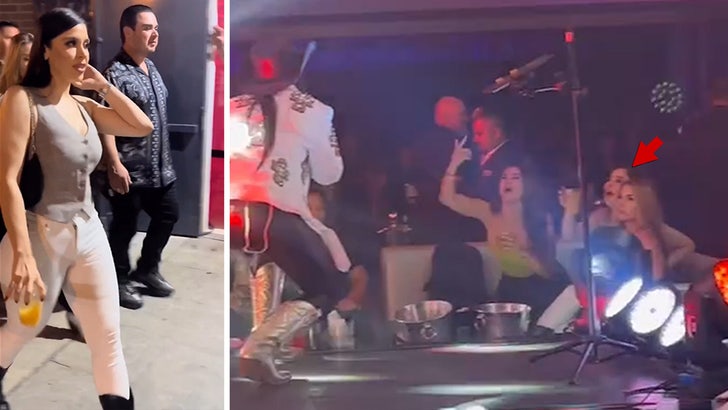 @tvjoseluis / @adrianafg8 / @el_farallon_
El Chapo might be in prison for the rest of his life, but his wife is a free woman after serving just two years behind bars -- and a couple days after being sprung, she hit the town!
Emma Coronel was spotted out in L.A. Friday night with a posse, dropping into a club down in Lynwood for a little live music and fun with her crew. The place they hit up is an event center called El Farallon ... and they say this shindig was put on by Emma's attorney.
BTW, this lawyer is also apparently a singer too ... 'cause she was up on stage performing. Her name is Mariel Colón Miró and she was putting on quite a show for her client.
As you can see, Emma was enjoying herself on the couch -- seemingly partaking in drinks -- and was mostly left alone. There was a lot of security standing around, though ... so maybe that's why people steered clear. Also ... she posed for some pics outside the venue too.
The outing follows Emma's release from custody Wednesday. She'd been transferred from a Texas facility to a halfway house here in Long Beach ... and, just this week, she was finally cut loose and placed on supervised release -- on which she'll be for the next 4 years.
Remember, Emma copped a plea deal with the feds in 2021 on drug trafficking charges ... and was sentenced to 3 years in prison. Ultimately, though, she did less than 2 ... and now, she's back on the outside.
As for her hubby, well ... he won't be getting out anytime soon, or ever. He's due to serve out the rest of his days in lock-up -- that is, assuming he doesn't pull another wild escape.
Stay safe, EC ... and keep your nose clean!