Taylor Swift Dines with Female Powerhouses, Greta Gerwig Included
Taylor Swift
Female Power Dinner ...
Eating' w/ 'Barbie' Director 👀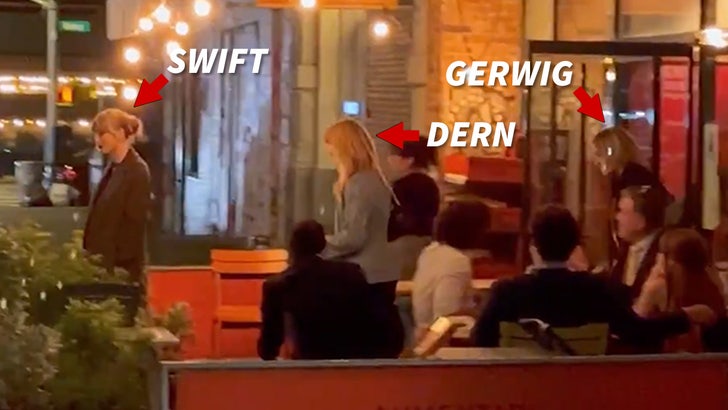 BACKGRID
Taylor Swift is looking more big picture-esqe these days -- and you can tell by the company she keeps ... in this case, chowing down with some of the biggest names in movies.
The pop star grabbed dinner in NYC Monday night -- hitting up an Italian joint in NoHo with 3 other incredibly famous women in the biz ... the film biz, specifically. Among the stars she was dining with ... Laura Dern, Zoë Kravitz and "Barbie" director Greta Gerwig.
It's certainly a power crew of ladies -- but it's fascinating to see TayTay mingling with women who like to get in front of and behind the camera ... especially when it comes to Greta, who's got the biggest flick of the year. Them getting together kinda makes you wonder.
Fact is, "Barbie" has been all the rage for months now ... and there's been a lot of speculation about a sequel -- although nothing official has been announced just yet.
Gerwig has said she'd be open to it ... but the fact part 2 isn't greenlit at this point is shocking considering how much $$$ it's made. Assuming WB wants to proceed with another chapter -- and they almost certainly do -- ya gotta wonder how they'd outdo the OG.
One way to potentially do that would be to bring Taylor on board and have her star in the film -- that, and maybe even have her contribute to another soundtrack. Dua Lipa got to do that the first time around (acting/music for 'Barbie') and it turned out to be a huge hit.
Seeing how Taylor naturally feels very on-brand for Barbie as is ... a linking up like this definitely gets the wheels turning on a would-be collab. Plus, keep in mind -- Taylor is very much so dabbling in filmmaking these days ... both in an acting capacity and directing.
In fact, she's got a movie hitting the big screen soon ... a doc covering her 'Eras' tour. Who's to say conquering the Barbie world isn't on her horizon? With Greta, anything's possible.