Bam Margera Reaches 1 Month Sober Milestone, Skateboarding Again
Bam Margera
1 Month Sober
... Skating Like A Pro Again
Bam Margera has hit a fantastic milestone on his road to recovery ... we're told he's been sober for a month and is even hitting the skate park again.
Sources close to Bam tell TMZ ... Bam recently reached the 1-month mark and has been living on a farm owned by another professional skateboarder just outside of Philadelphia.
We're told he's been on the farm with his girlfriend, Dannii -- the 2 have been going to the gym every day and hiking with their dogs, and Bam's lost a ton of weight ... which has given him the ability to start skating again, and he's once again making it look easy.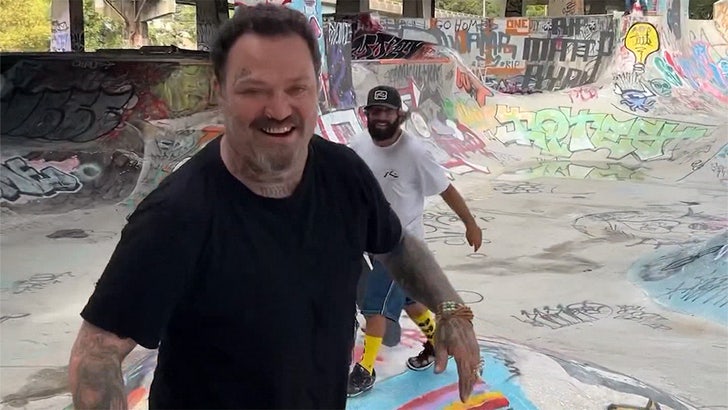 @captiancremebrulee
Our sources say he's been loving getting back into the sport, but more importantly, has kept a really tight circle of positive friends and influences. Dannii even gave him an ultimatum that seems to have helped -- he picked her over the booze.
We're told the former "Jackass" star feels this is the first time he's wanted to get sober for himself ... as opposed to being forced by family or friends through an intervention.
As we reported, Bam's been in a legal battle with his estranged wife, Nikki, over custody of their 5-year-old kid, Phoenix -- she was granted temporary sole custody of the boy last month, following an arrest and citation for separate instances of public intoxication. Bam has been able to FaceTime with Phoenix 4 times a week.
BTW, Bam's brother, Jess, revealed earlier this year Bam destroyed a guitar they got from Billy Idol in a fit of rage. We're told Bam and Dannii hung out with the singer in Philly last weekend after a concert, and Billy actually signed a new guitar for him.
Way to go, Bam ... keep it up.