Lil Tay Seen for First Time in Years, Following Alleged Death Hoax
Lil Tay
Seen for First Time in Years ...
Bizarre Arrival at LAX
Lil Tay is back in the public eye for the first time in 5 years ... oddly covered up and staying quiet as she arrived in Los Angeles.
The former social media-flexer was bombarded with photogs at LAX Wednesday, covered in a hoodie, mask and sunglasses. Tay wasn't alone though, flanked by security, her mom, Angela, and brother, Jason.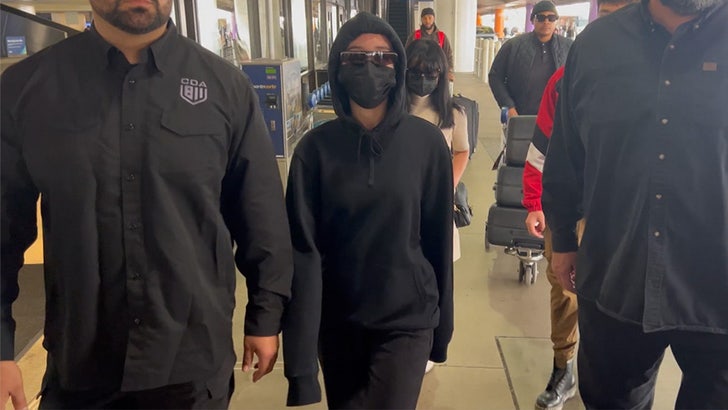 BACKGRID
This obviously marks a big milestone for Tay, who hasn't been seen since her virality came to an end in 2018. Paps sprayed her with questions, but she kept her lips sealed ... hopping into a ride without saying a word.
Tay teased her trip Tuesday night, posting a pic of her passport. She's from Canada, so it was almost certain she'd be going international ... and now we know the destination.
TMZ broke the story, Lil Tay was the subject of an alleged viral death hoax last month that was posted to her Instagram account. She told us her account was "compromised by a 3rd party and used to spread jarring misinformation and rumors regarding me."
A post on her IG account Tuesday dragged her father, Christopher ... saying he was the one who faked her death, calling him an "ABUSIVE RACIST MISOGYNISTIC WOMAN BEATING FATHER."
Christopher told us the claims against him are bogus, and warned that the serious accusations could land whoever called him out in civil court.
Her dad got a court order in 2018 to have her leave LA and return to Vancouver, but her mom recently won the long-running custody battle over Tay, meaning she's now able to return to the States ... so we're guessing this will be the first of many Lil Tay sightings.