Minneapolis Cop Outed as OnlyFans Model During Traffic Stop
Minneapolis PD
Cop Outed as OnlyFans Model
During Traffic Stop, Dept. Investigates
A Minneapolis driver got a serious eyeful of the cop who pulled him over -- he recognized her as an OnlyFans model who he's seen having sex online, and now Minneapolis PD is probing ... for any conduct violations.
What are the odds??? The female officer pulled over a guy last week, and he told FOX9 in Minneapolis that after about 10 minutes the cop started to look familiar ... and he realized he's been following her OnlyFans account for a few months.
As he put it, "You got to go to the VIP and you get to see the videos of her and her, I guess husband, I guess that's who it is, they do full sex videos."
The officer, who hasn't been named, operates an OnlyFans page that offers videos and photos she describes as "solo play" and "amateur porn." She describes herself as 35, free-spirited and an "overly optimistic creator of sexy content to please others."
The question Minneapolis PD's police chief now has to address is ... what, if anything, is wrong with the cop -- who's reportedly received commendations for her police work -- doing this as a side job.
The Dept. policy forbids off-duty officers from any work that's "not compatible with police work" ... which includes working at "any establishment that provides adult entertainment in the form of nude, semi-nude or topless exhibitions."
Obviously, she's not working at a business, but rather operating one from her home -- but the police brass might see it differently.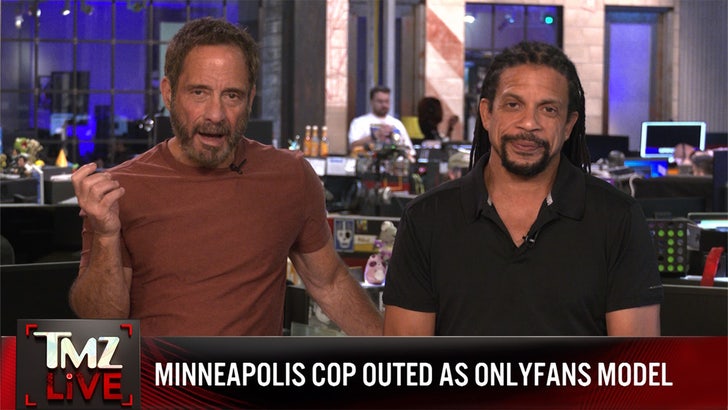 TMZ.com
The driver she pulled over definitely has a problem with it -- "I wouldn't want her to be arresting me and I just saw you and your husband last night for $29.99 have sex on OnlyFans. I just can't respect you or the precinct that you're working at."