Philly Biker Arrested After Smashed Window Attack, Bail Set at $2.5 Million
Philly Biker
Arrested After Stomping Through Car Window
... Bail Set at $2.5 Million!!!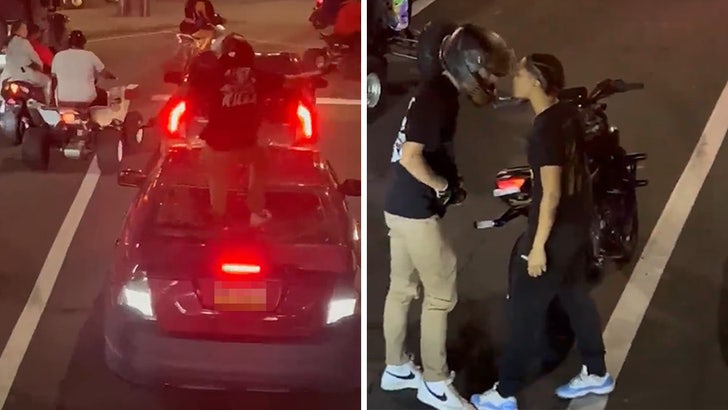 Instagram /@vortex.hz
Severe road rage has a Philly biker behind bars this morning ... after he was caught on camera smashing the rear window of a woman's car as her 2 young kids were in the backseat.
Cops busted 26-year-old Cody Heron Wednesday night for a heinous attack on a driver Sunday night. Heron was part of a group of bikers riding through the city when they rolled up on Nikki Bullock's sedan.
Video of the incident shows Heron hop off his motorcycle, and stomp twice on the rear window of her car before he smashes right through it.
You can also see Heron was armed with a handgun, because it falls out of his waistband as he jumps off the car to get back on his bike. After a brief physical confrontation -- during which Heron headbutts Nikki with his helmet -- he and the other bikers flee the scene.
Cops finally tracked down Heron Wednesday night at a home where they also found his motorcycle, helmet and a 9mm handgun.
He was booked for possession of an instrument of crime, recklessly endangering another person, and multiple counts of aggravated assault.
Nikki says the whole thing started because Heron sideswiped her car while she was delivering for Uber Eats. She was arguing with him and other bikers, and says that's when Heron jumped off his bike and pounced on the window ... with her 5-year-old and 2-year-old kids just inches away.
Prosecutors are showing they mean business, requesting Heron's bail be set at $5 million, but the judge brought it down to $2.5 mil during arraignment. He can be released by posting 10 percent of that amount, though.