Ex-Steelers LB Anthony Chickillo Tased By Cops After Alleged Meltdown At Hospital
Ex-Steelers LB Anthony Chickillo
Tased By Cops ...
After Alleged Meltdown At Hospital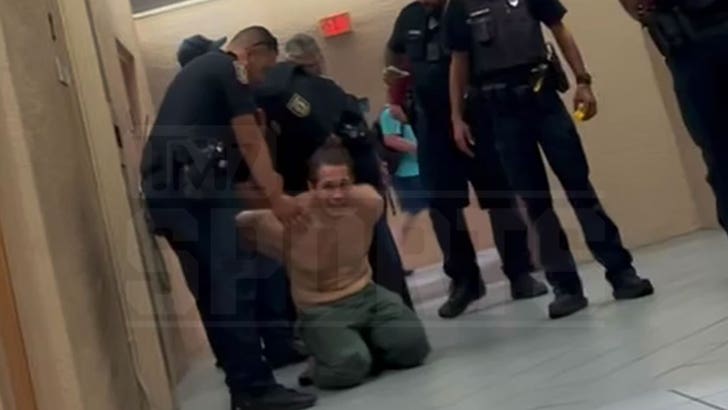 TMZSports.com
7:36 AM PT -- Anthony Chickillo's girlfriend, Tatu Baby, tells TMZ Sports ... the former NFL player was going through a medical episode due to bipolar disorder caused by a concussion that he suffered during his playing days.
"It was just a medical situation," Tatu Baby says.
Tatu Baby added that Chickillo is currently hospitalized and getting the medication he needs in order to get better.
Former Pittsburgh Steelers linebacker Anthony Chickillo was tased by cops at a hospital this week ... after police say he had a breakdown inside of a doctor's office.
According to the Hialeah Police Department, Chickillo was at the Hialeah Hospital in Hialeah, Fla. on Thursday morning ... when witnesses say he suddenly snapped and began "trashing" an office, breaking things and throwing chairs.
Cops say the former football player then allegedly "tried to attack everybody" -- before he got into a wrestling match with his dad.
Bystanders called 911 -- and when officers arrived on scene, we're told they deployed a taser in order to subdue him.
In video obtained by TMZ Sports, you can see 30-year-old Chickillo was barefoot and shirtless as cops finally got him in handcuffs and took him away from the area.
The HPD tells us, though, Chickillo was not arrested ... and instead was placed on a 72-hour psychiatric hold.
We're told he will not be arrested once he's released either because nobody at the doctor's office wanted to press charges.
Chickillo is not a stranger to run-ins with the law. In 2019, he was arrested for allegedly roughing up his girlfriend. The charges were ultimately dropped, however, after prosecutors said she refused to testify against him.
Chickillo was drafted into the NFL by the Steelers in 2015 ... and he went on to play five seasons in Pittsburgh, before joining the Denver Broncos in 2020. In 2021, he announced his retirement, writing on his Instagram page, "I am so grateful for the opportunity and thankful for every one of the teams that gave me a shot."