Cristiano Ronaldo Reportedly Facing '99 Lashes' For Hugging Iranian Painter
Report: Cristiano Ronaldo
Facing '99 Lashes' For Hugging Iranian Painter
A severe beating could be in Cristiano Ronaldo's future ... and it's reportedly all because he hugged and kissed a female painter in Iran last month.
Here's the deal ... Ronaldo was in the country to play in Al-Nassr's Asian Champions League game against Persepolis on Sept. 19 -- but before the match happened, he was greeted by several fans who showered him with gifts.
One of them included painter Fatima Hamimi, who creates art with her feet due to a disability.
She handed over two ultra-realistic drawings of the 38-year-old ... and as a thank you, Ronaldo embraced her and gave her a peck on the forehead.
It all seemed quite innocuous, but according to multiple reports in Iran, Ronaldo is now in hot water over it all -- because in the country, it's reportedly considered adultery to touch another woman while in a relationship. The soccer player, of course, has been in a longtime partnership with Georgina Rodriguez.
Multiple outlets reported this week that Ronaldo's actually been sentenced to 99 lashes over it all. However, at least one report said he can escape the punishment if he shows remorse for his actions.
Ronaldo is not currently slated to return to Iran for an Al-Nassr game again ... although one could be scheduled at a later date if the team makes it to the knockout stages of the Asian Champions League tournament.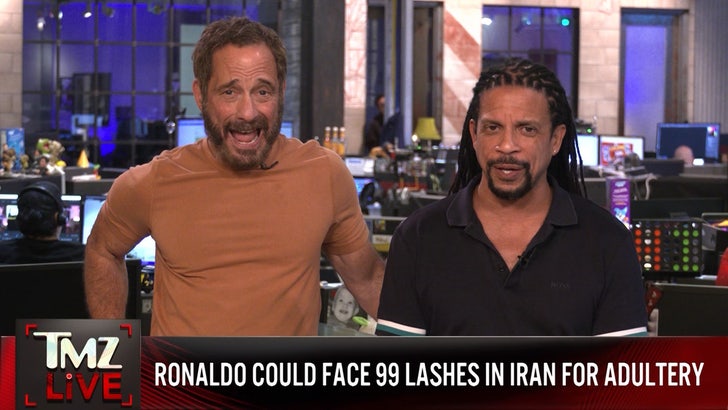 TMZ.com
So far, Ronaldo -- who joined Al-Nassr last year -- has yet to comment on the matter.