Suzanne Somers' Husband Alan Hamel Wrote Her Love Letter Day Before Death
Suzanne Somers
Husband Wrote Love-Filled Poem ...
Read It Night Before She Passed
Suzanne Somers' husband, Alan Hamel, penned a heartfelt poem to his ailing wife in her final hours ... and she was able to read all about his love for her the night before she died.
Alan gave Suzanne the touching words Saturday night -- Suzanne's publicist R. Couri Hay told People she read the poem and went to bed, later dying peacefully in her sleep.
Hay says Alan gave it to her "a day early," so it likely was a present for her birthday, which would've been Monday.
Alan, a film producer, lists in all caps, the many ways he uses the word "love" in his daily life -- from emails to his family, to shows on Netflix, and even about "A GREAT MEAL."
However, Alan says nothing comes close to the love he has for his wife of 46 years ... adding, "THERE IS NO VERSION OF THE WORD THAT IS APPLICABLE TO SUZANNE AND I EVEN USE THE WORD APPLICABLE ADVISEDLY."
He goes on, saying there is hardly anything in the world that can fully encapsulate his feelings for her -- writing, "I'LL TAKE A BULLET FOR YOU DOESN'T DO IT. I WEEP WHEN I THINK ABOUT MY FEELINGS FOR YOU."
Waiting for your permission to load the Instagram Media.
He says they've been together for 55 years, being married for 46 and they haven't spent, "EVEN ONE HOUR APART FOR 42 OF THOSE YEARS."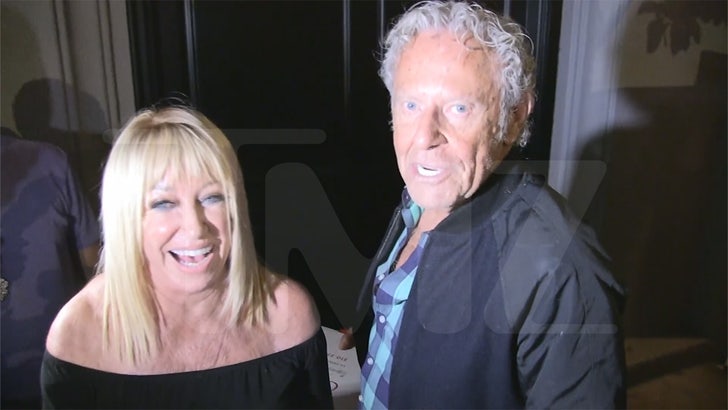 7/3/21
TMZ.com
Alan ends his touching note, saying the best way to describe the fire between them is simply, 'US', UNIQUELY, MAGICALLY, INDESCRIBABLY WONDERFUL 'US.'"
As we reported, the "Three's Company" star passed away in her sleep Sunday after her battle with cancer -- her rep told us her family was gathered to celebrate her 77th birthday, but instead will be using the time together to celebrate her life.