Britney Spears Supported by Pro-Life, Pro-Choice Orgs After Abortion Story
Britney Spears
Gets Pro-Life, Pro-Choice Support ...
After Abortion Memoir Story
Britney Spears' bombshell abortion revelation has rallied both pro-life and pro-choice groups to come to her defense -- but for completely different reasons ... TMZ has learned.
We talked to a number of major orgs that land on each side of this issue ... and all are expressing support and solidarity for Britney after she shared a personal story about once getting pregnant by then-BF Justin Timberlake -- only to decide not to have the kid.
For starters -- the National Right to Life Committee, says they're actually willing to lend Brit a hand ... on account of the trauma she might be experiencing by having to relive this.
An NRLC rep tells us there are a lot of folks in their world who are just like Britney -- namely, women who've had abortions, only to regret it later ... which is certainly how Brit sounds. They say they have services and resources available they'd love to extend to her.
One of those is peer counseling and therapy ... which NRTLC says they have in abundance at any of their many pregnancy centers across the country -- all of which is confidential and judgment-free. The Committee adds ... they're there if Brit wants to reach out.
On the opposite end of the coin is a pro-choice organization -- the Center of Reproductive Rights -- which is also coming out to praise Britney ... but their POV's distinct.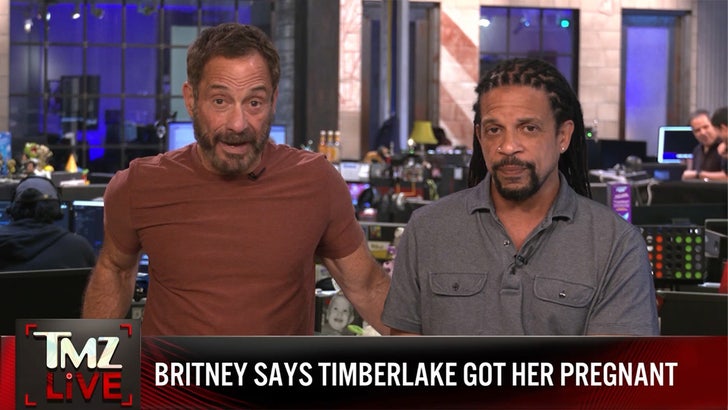 TMZ.com
As far as they're concerned ... CORR believes Britney simply sharing her experience, in and of itself, dissolves the stigma surrounding abortion -- which they see as a major win for their cause.
A rep adds, "These conversations are especially necessary right now given that millions of people across the U.S. no longer have this right."
There's one last take on all this ... and it comes courtesy of a pro-life org that's tackling the blame element here -- namely, Britney pointing the finger at JT for being the driving force behind her abortion. We broke the story ... she claims he felt they were too young.
Susan B. Anthony Pro-Life America says, "Our hearts go out to Britney and every woman who has endured an unwanted abortion ... We hope Britney's bravery to share her deeply personal wound will give other women the courage to voice their stories of abortion coercion. We should all agree that no woman should endure a painful abortion that she truly does not want." A hodgepodge of reactions, no doubt -- and yet ... they all stand with BS.