Gilbert Burns, Only Common Opponent Of Usman, Chimaev, Breaks Down UFC 294 Fight
Gilbert Burns
Kamaru & Khamzat's Only Common Opponent ...
Breaks Down UFC 294 Fight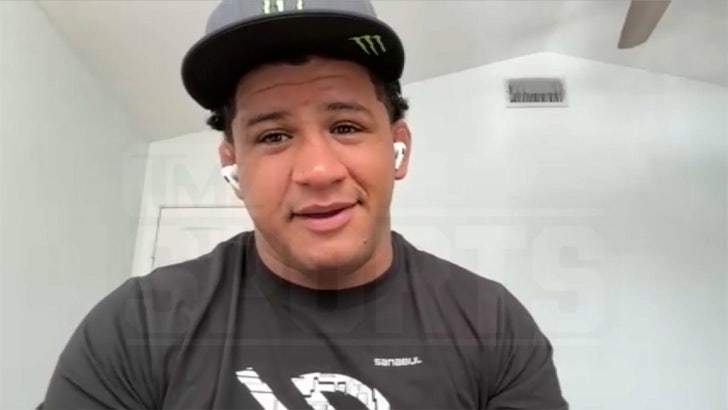 TMZSports.com
37-year-old Burns joined Babcock on the "TMZ Sports" TV show (airs nightly on FS1) ... and having shared the cage with both title contenders, he told us where each man has the advantage.
For Khamzat, Burns says it's a plus he had a full camp -- even though he was training for a different opponent in Paulo Costa. Still, Usman didn't have any camp ... save for a few days before he left for Abu Dhabi.
When it comes to Kamaru, Gilbert believes his vast array of experience can't be discounted. Usman has been in virtually every situation ... and that can't be said for Chimaev (this will be his 7th UFC fight, and Kamaru's 18th in Dana's promotion).
Two of those fights came against Burns.
Kamaru and Gilbert's scrap was the main event at UFC 258 in February 2021 ... a fight Usman won by 3rd round TKO. The fight was very competitive, especially early, until KU took over, and ended things, retaining his title.
Khamzat and Gilbert fought a year and change later at UFC 273 in April 2022 ... a fight Chimaev won by unanimous decision. Despite the judge's scorecards, many believe Burns actually won the razor-close fight. It was without any doubt the first time Borz was pushed ... and while he certainly bent, he didn't break.
Burns breaks down much more about the looming fight ... touching on everything from speed and punching power to strength and ability on the ground.
Usman, who took the fight on 10 days notice, is a sizeable underdog ... around +250 at most sportsbooks (wager $100 to win $250, whereas you'd risk around $300 to win $100 on Chimaev).
Gilbert didn't exactly pick a winner -- at least not straight up -- but given his expertise, and the odds ... he had this to say.
"I think you should put a lot of money on Kamaru Usman," Burns said.
"That's the best bet. The fight's so close. I give him a little bit upset. 53% on Khamzat just because of the size and he did a full training camp but I think the fight is that close."