Rick Ross Says Dinner with Jay-Z Made Him Millions, Helped Rap Career
Rick Ross
Dinner With Jay-Z Made Me Millions!!! 🤷🏾‍♂️
Rick Ross isn't buying Jay-Z's answer to that ol' question -- $500k or dinner with him -- because the MMG rapper says his personal experience with Jay netted him way more cash!!!
Jay-Z shot down all the folks who'd opt for the dinner, thinking he'd say something life-changing that would make the meal more valuable than a half a million dollars -- but Rozay begs to differ.
Ahead of the release of his "Trilla" album in 2008, Rozay says he had dinner with Jay at Philippe Chow in NYC, where the Roc Nation boss instructed him to write songs for their intended impact ... as opposed to just rapping over beats he liked.
Ross remembers cutting his workload in half and seeing his stock rise -- it pays to work smarter, not harder!!!
Jay hopped on the album as well ... kicking off the famed "Maybach Music" series and Rozay says his career catapulted to another level.
Now, that being said ... Rick walked into that dinner with Jay already being a talented artist ... so, he understands why a normie -- without that kinda head start -- would take the money and run.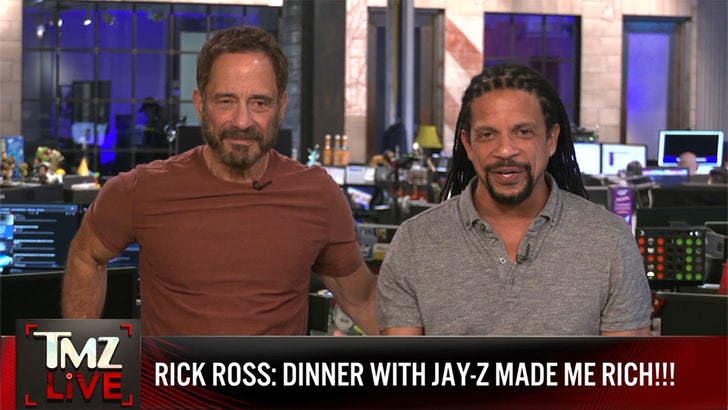 TMZ.com
Point is, if you've got real potential in the biz ... the Boss says go with his mentality, and bypass the $500k for a seat at the table!!!