Bella Hadid Breaks Silence On Israel-Hamas Attacks
Bella Hadid
Speaks Out About Israel & Hamas
... 'Intricate And Horrific'
Bella Hadid is speaking out for the first time on the ongoing attacks in the Middle East ... saying the last 2 weeks have been nothing short of a horror show, condemning terrorism across the board.
The model, who is part Palestinian, spoke her mind Thursday, first by writing, "Forgive me for my silence" ... before admitting it's been tough to find the words for the "deeply intricate and horrific past 2 weeks."
She says the death and destruction happening in Israel and Palestine shifted the world's focus "back towards a situation that has been taking innocent lives and affecting families for decades" -- adding, "The people and children of Palestine, especially in Gaza, cannot afford our silence."
Bella says her "heart is bleeding with pain from the trauma" she's already seen online ... adding she's mourning alongside the families that are forever broken after seeing the aftermath of the Gaza airstrikes.
While she's mostly speaking in favor of Palestine, she adds, "I mourn for the Israeli families that have been dealing with the pain and aftermath of October 7," when Hamas terrorists first attacked Israel .... writing, "I condemn the terrorist attacks on any civilians, anywhere."
She also confirmed what sources told us last week -- she's gotten hundreds of death threats, and even had her own phone number leaked. Remember ... her sister, Gigi, also spoke out, and was met with disdain over her pro-Palestinian stance.
Gigi came under fire directly by the State of Israel's social media account for her comments, too.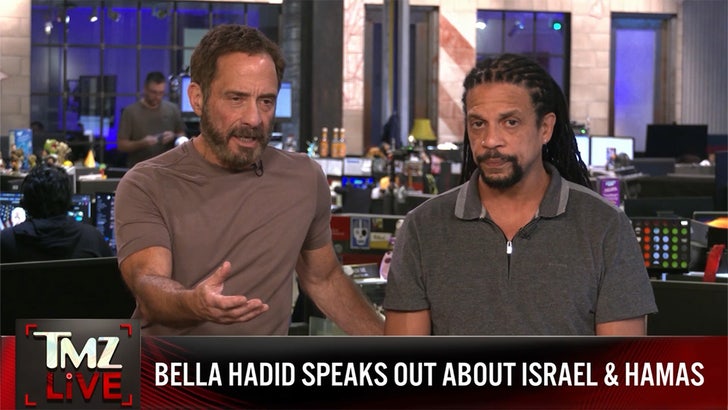 TMZ.com