Liberace's Ex-Lover Scott Thorson -- TAKES SHOTS TO THE FACE [PHOTOS]
Liberace's Ex
TAKES SHOTS TO THE FACE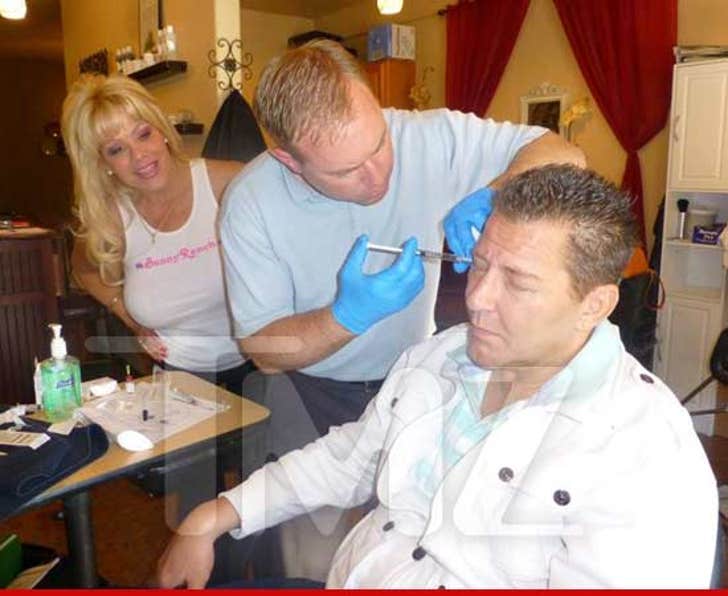 EXCLUSIVE
Liberace's ex-lover Scott Thorson is a man with priorities ... his first stop after getting sprung from jail -- a doctor's office where he was pumped full of Botox.
The photos were snapped in Vegas ... just days after Thorson was released from the pokey where he'd been rotting since February 22.
Thorson -- portrayed by Matt Damon in the new HBO movie "Behind the Candelabra" -- pled guilty to burglary and identity theft in May. He was eligible to bail out while he awaited sentencing in July, but couldn't make bail until last month, with the help of Bunny Ranch brothel owner Dennis Hof.
Once free ... he made a beeline for the Botox doc. We're told the procedure cost $1,200 ... and famed Bunny Ranch prostitute Air Force Amy (above) footed the bill.
Pretty insane ... considering Thorson sued Liberace for cajoling him into getting so much plastic surgery so Thorson would look like Lee ... he got addicted to painkillers and other drugs. So getting more work done seems a bit strange.
Then again, there's nothing wrong with a little prick here and there.