Michael Jackson's Doctor Arnie Klein -- Kissing Jabba the Hutt Goodbye with Weird Crap Auction
MJ's Doc Arnie Klein
Kisses Jabba the Hutt Goodbye
With Weird Crap Auction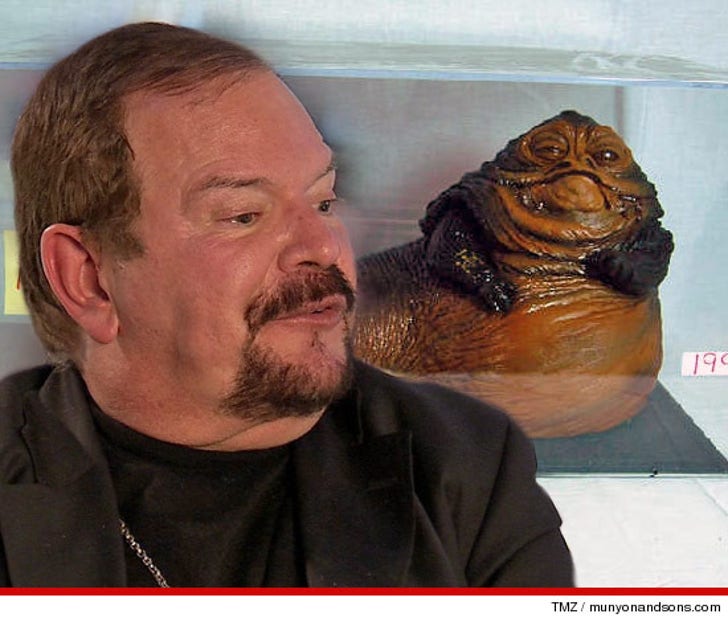 Breaking News
Michael Jackson fans and "Star Wars" geeks brace yourselves -- MJ's former doc, Arnie Klein, is unloading a bunch of his old crap ... including Jabba the Hutt and a ton of other memorabilia from the movie.
It's all part of an estate sale being held next month -- starting Nov. 13 -- where things like a production-used Jabba prototype, a Princess Leia figurine, lightsabers and a treasure trove of action figures will be auctioned off to the highest bidder.
Klein is also ditching an extensive collection of Michael Jackson lithographs (many autographed by MJ), Disney memorabilia, and an insane amount of pricey paintings.
Kinda fitting ... Klein, famed dermatologist to stars like Liz Taylor and Michael, clearly has his own eccentricities -- hoarding 'Star Wars' DVDs and toy stormtroopers right next to Rembrandts and Rodins.
As you may recall, Klein had been stashing over 100 pieces of wildly expensive art instead of turning them over to his bankruptcy trustee ... but after cops showed up to his home with an arrest warrant, he folded.
It's unclear whether or not this auction is being used to finally pay off all his debt ... but it looks that way. We reached out to Klein, but he hasn't responded.