Suge Knight -- Threatened Female Photog Before Alleged Robbery ... 'I Got a Bitch to Beat Your Ass' (VIDEO)
Suge Knight
Threatened Female Pap ...
'I Got a Bitch to Beat Your Ass' [Video]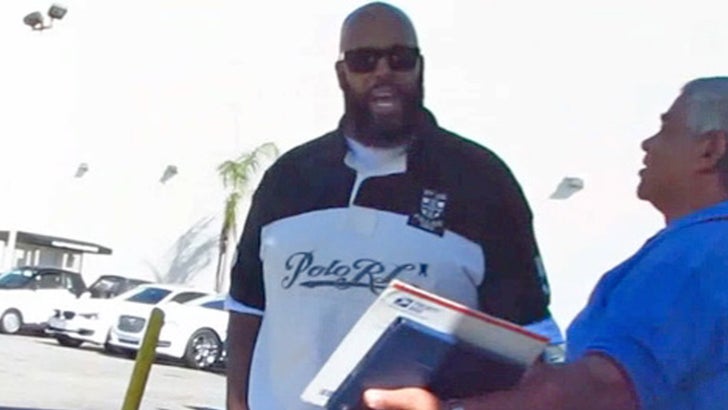 SEPTEMBER 2014
SplashNewsOnline.com
Suge Knight menacingly got in the face of a female photographer and repeatedly called her a "bitch" moments before he and Katt Williams allegedly tried to snatch her camera ... and we have video of the run-in.
This is the first video of the Sept. 5 Beverly Hills incident that got Suge and Katt arrested for robbery last week. The clip starts with Suge going after a male paparazzo, but then he starts berating the chick pap from a distance -- accusing her of taking pictures of his son.
Then it gets real scary. All 6'4" of Suge marches over to her, and unleashes the threat ... "I got a bitch to come beat your motherf***in' ass!"
It's interesting -- as we first told you ... Katt Williams denies laying a hand on the photog, but does say a female companion of his intervened because the pap was taking shots of Suge's young son.
Katt Williams never appears in the video.